Mattress Buying Guide
Everything You Need For A Good Night's Sleep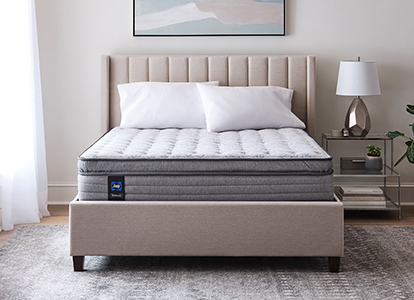 Every mattress offers a variety of features to benefit your specific needs. Finding the perfect mattress for you should not be a stressful journey. The right mattress can mean the difference between tossing and turning all night or waking up refreshed and ready to take on the day. Shop All Mattresses
How Firm Should My Mattress Be?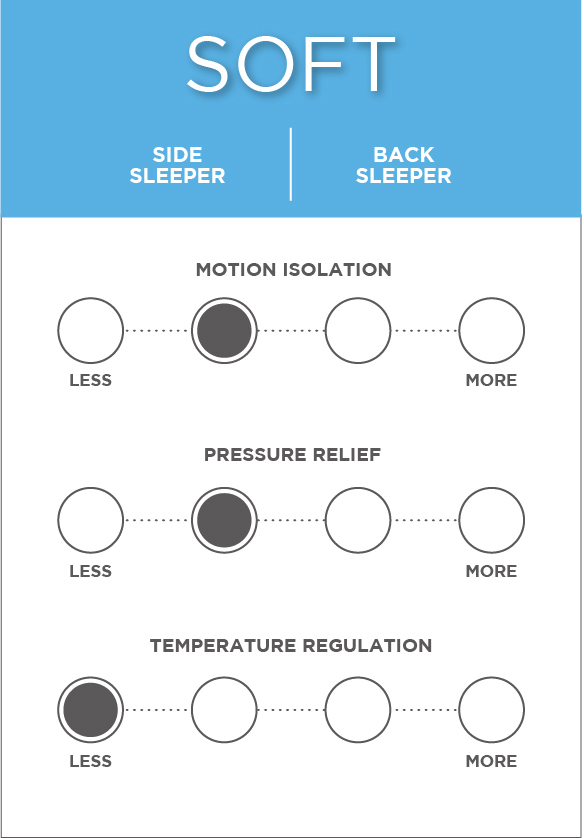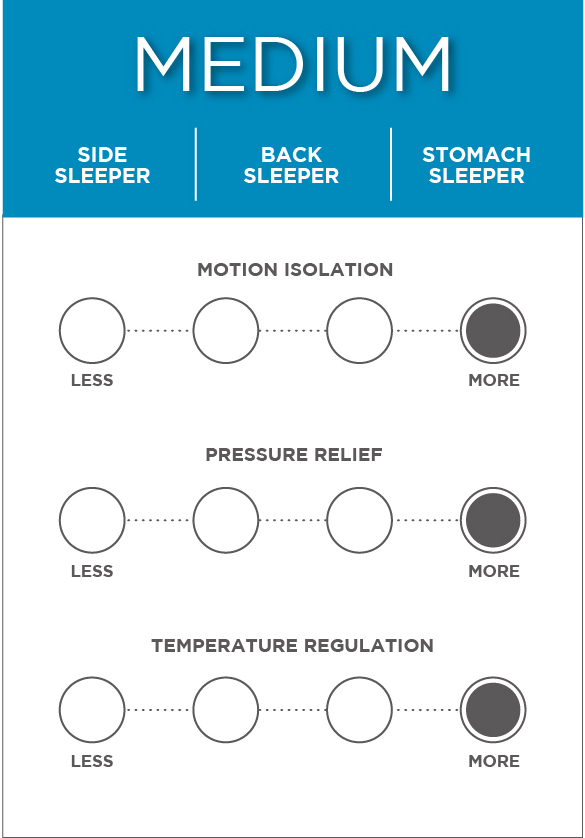 Comforts range from soft, medium to firm. Comforts vary depending on your sleeping position. Unlike popular belief a good mattress will provide support regardless of how plush or firm it is but the one you chose should take into consideration how you sleep. Comfort can influence how restful your sleep is throughout the night therefore it is important to know about your sleeping position and what type of support different areas of the body need.
What mattress is best for my sleep position?
Memory foam, innerspring and mattresses with a soft topper will provide pressure relief to side sleepers. If you sleep on your stomach, look for a mattress with a firmer surface. Back sleepers can be comfortable on almost any type of mattress, especially on firm mattresses, depending on personal preference.
More Ways To Sleep Better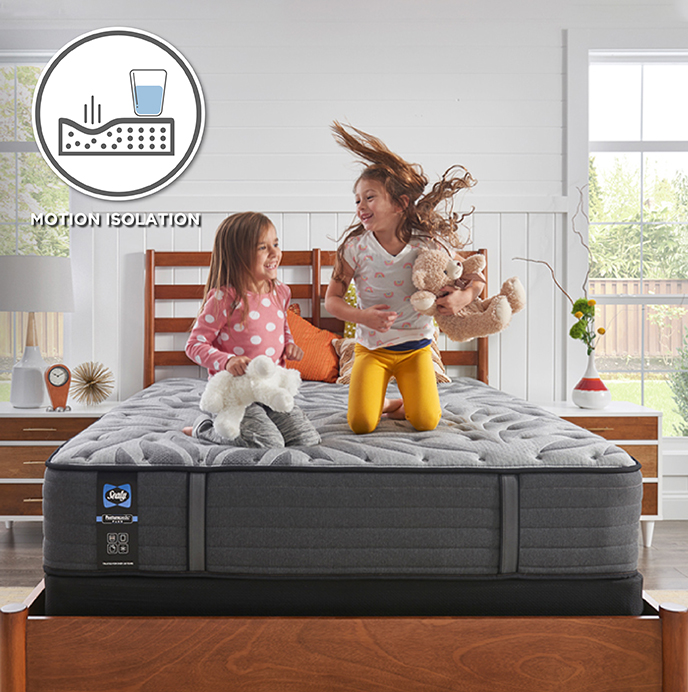 Motion Isolation
• Connected/wrapped coils, higher density coils, more coil count, foam layers
• Best for co-sleepers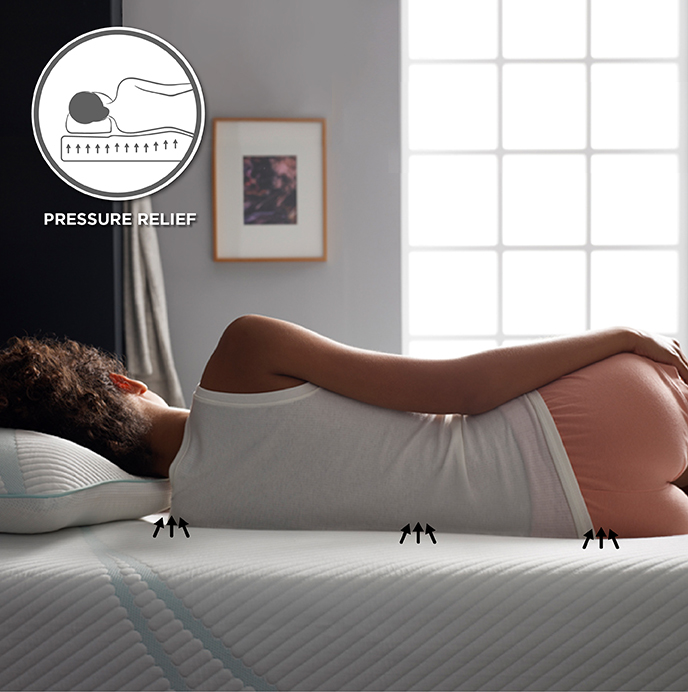 Pressure Relief
• Zone support, foam quality, coil count, higher density coils
• For reducing back pain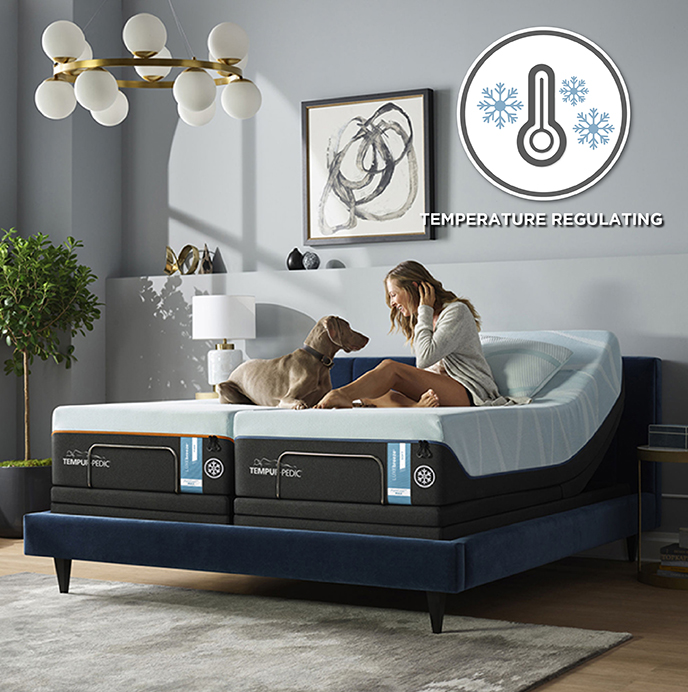 Temperature Regulating
• Air flow, cooling fabric, cooling foam layers
• For interrupted sleep due to being hot
Anti-microbial/bacterial
• Reduction of bacterial growth and protects from odors
• Feel fresh everyday
Things to keep in mind
1 - Keeping the natural curvature of the spine is key to avoiding stiffness in the morning.
2 - A general rule of thought is to replace your mattress every 7-8 years.
3 - The ideal temperature for sleeping & not waking up is 65 degrees.
4 - A good way to extend your mattresses life is with a mattress topper.
5 - Back sleepers can be comfortable on almost any type of mattress, depending on personal preference.
6 - Especially on pillow top mattresses, you can rotate your mattress periodically to keep it feeling new.
7 - Allow at least 30 to 90 days to adjust or "break in" to your new mattress.
All Things Sleep: Shop & Learn More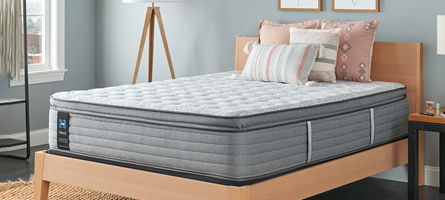 Shop Buyer's Top Picks

Motion Reducing: Shop the Retford Collection
Sustainable Mattresses: Shop the Harmony
Cooling Mattresses: Shop the Renewed Night Collection
Cradling Support: Shop the Serene Sky Collection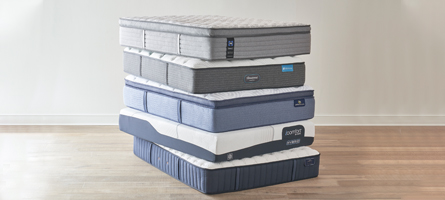 Shop Top Brands
Frequently Asked Questions
Why do I need a protection plan?
A protection plan can be purchased for mattresses and/or adjustable bases that lasts up to 10 years. The 10- year Terry Mattress Protector additional protection plan includes waterproof, breathable, and machine washable mattress protector that repels liquids. Professional stain removal is provided if stain should get onto the mattress. If the stained area cannot be repaired, the mattress will be replaced. The 10-Year Adjustable Base Protection Plan includes breakage of mechanisms including sleeper, reclining, heating, vibrating mechanisms, steel frames, welds. Additionally it included electrical failure of wiring, motors, and remote control devices. A certified service technician will be sent to professionally repair the item. If damage is unable to be repaired, the entire adjustable base will be replaced free ofcharge. If your adjustable base is no longer available, you can reselect new adjustable base of equal or lesser value. If you have any more questions there is 24/7 access to claims on warranty service mobile app or at www.warrantyservice.com.
Which mattresses are the best?
Figuring out which mattress works the best for you might be challenging. But it totally depends on your sleeping position. You'll likely find that you're either a back sleeper, side sleeper, stomach, or combination of all three. For instance, back sleepers need a medium firm feel mattress that will support their lower back and neck in the right position. The side sleeping dreamers need pressure relief at shoulders and hips, hence they should go for memory foam mattress that contours the body. For stomach sleepers, pick ultra-firm mattress that lifts the hip in line with shoulders.
Which memory foam mattress is the best?
A mattress should match your needs, but if we have to suggest one it would be our new Harmony Cayman collection.Its infused with charcoal and provides cooling. The mattress features targeted support system with SEAQUAL fabric technology and TENCEL yarn breathability and moisture management above an antimicrobial layer.
What mattress is best for back pain?
A medium firm density mattress that set the spine in a neutral alignment and provides targeted support would work great for back pain. We recommend Sealy Retford mattress for back pain. It features motion-reducing encased coils and targeted memory foam support.
Why use box spring?
Box spring is a support system for your mattress that's usually manufactured to be the same size of the bed. It works as a proper foundation for the mattress, so it doesn't sag and lose support. In addition, they raise the mattress to a comfortable height, protect the mattress by absorbing the impact and improves airflow for the mattress to stay cooler.
What mattress topper is the best?
A mattress topper can give you the best sleeping experience. Depending on your need you could go for a memory foam topper or a waterproof mattress topper. The memory foam mattress topper adds an extra layer of firmness, whereas the waterproof one repels all liquids including bodily fluids, perspiration, and accidental spills.
What mattress topper is the best for back pain?
Our recommendation is to go for a memory foam mattress topper to add a layer of firmness to your bed. Go for SensorPEDIC advance cool topper featuring gel-infused memory foam that regulates body heat and is also pressure-relieving to support spinal alignment. It's also engineered for maximum airflow for a cooler night sleep.
What mattress pad is the best?
A mattress pads acts as an extra layer of protection to your mattress. We suggest you pick the Fieldcrest Luxury knit antimicrobial mattress pad. It's treated with scotch guard stain release for easy maintenance and it's a perfect fit for your bedding. The Fieldcrest mattress pad is also waterproof with antimicrobial properties for odor causing microbes.