Men's Wedding Band Guide: How to Choose the Best Wedding Ring for Men
If you're shopping for a wedding band, that means the engagement was a success and you're on your way to getting married – congratulations! But what exactly is a men's wedding band? In this guide, we'll cover the basics and history of men's wedding bands, and highlight some key things to consider before making your wedding band purchase.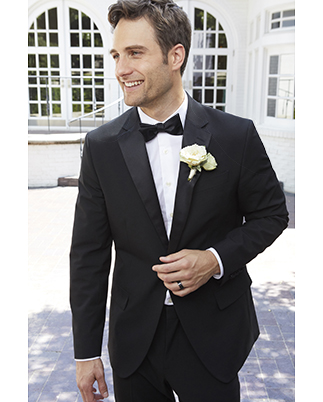 What is a Men's Wedding Band?
As the name implies, a men's wedding band – also known as a men's wedding ring – is the type of ring given to him on his wedding day. It signifies the eternal bond of love and commitment he shares with his newly-wedded spouse; however, you might be surprised to hear such a practice is relatively modern.
The practice of women wearing wedding rings dates back thousands of years to Ancient Egypt and Rome, but it was not tradition for men to have or wear wedding bands until World War II shook the 20th century – one notable historical exception being the Vikings, whose men and women both wore wedding rings.
As western soldiers started shipping out to the warfront in the 1940s, they chose to wear their own wedding bands as a reminder of their wives and families that were waiting for them back home. After the war ended, the custom became a tradition, and that's why men now wear wedding bands.
Choosing the Right Men's Wedding Band
When it comes to selecting the best wedding band, men usually don't have to worry about matching the wedding band to an engagement ring. However, there are still some key factors to consider, such as band width, metal type, and ring style and finish.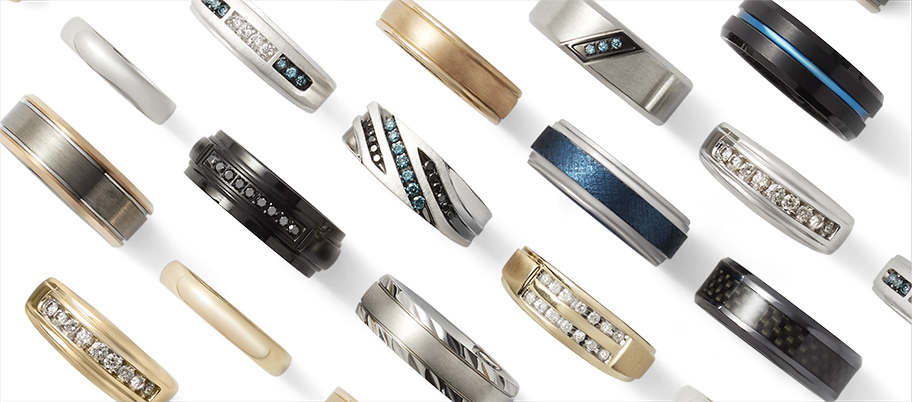 Wedding Band Width: When it comes to men's wedding bands, the most common widths are slim (4mm), medium (6mm), and wide (8mm). Which style you choose depends on your personal preference, but finger size should be considered. Wide rings typically look best on men with longer or larger fingers, while slim or medium rings look best on men with shorter or smaller fingers. It should also be noted that the more width a ring has, the more it will likely cost due to the additional metal used.
Wedding Band Metal Types: Because men typically only wear a wedding ring, the metal type is a very important decision to make. This is a ring you will wear for the rest of your life, so you want it to stand out but also match your skin tone, sense of fashion, and lifestyle. You should also consider a metal type that can be resized over the years as the physicality of your fingers change. The most common metal types for men's wedding bands are gold, silver, stainless steel, titanium, and tungsten. Be sure to check out our jewelry metals guide to find out which is best for you.
Wedding Band Style and Finish: Like the metal type, the wedding band style is another big thing to consider. Most men choose a plain wedding band with no diamonds or gemstones, but there are plenty of styles and designs to choose from.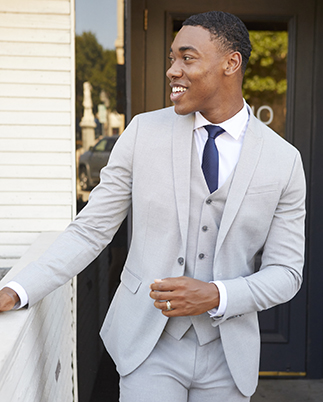 Popular Band Finishes:
Classic Court: This is the most common wedding band shape, with rounded edges inside the ring and out.
D-Shape: This style offers a closer fit, with the inside of the band being flat while the outside edge is round and thin.
Flat: This style has no rounded edges, it's flat inside and outside the band, making it comfortable to wear.
Flat Court: This style is flat on the outside edge of the band, while round on the inside, giving it a unique look.

Popular Band Styles:

High Polish: The most traditional finish for wedding bands, the metal is polished to a smooth, reflective, and shining finish.
Matte: This is a popular modern alternative to high polish, the matte finish reflects less light for a more muted, subdued look.
Brushed: This finish is ideal for rings with no gemstones, the brushed finish gives the ring a soft texture that gently plays with the light.
Hammered: A bold finish for a wedding band, the metal is hammered to create a crinkled, dimpled texture that is truly eye-catching.
Where to Buy Men's Wedding Bands
At JCPenney, we have an incredible selection of men's wedding bands in our men's jewelry collection. Whether you're looking for a traditional gold wedding band, a contemporary titanium or tungsten wedding band, or a dazzling diamond wedding band, you're sure to find the perfect wedding ring for men here. Shop online and take advantage of special financing when using a JCPenney credit card today!