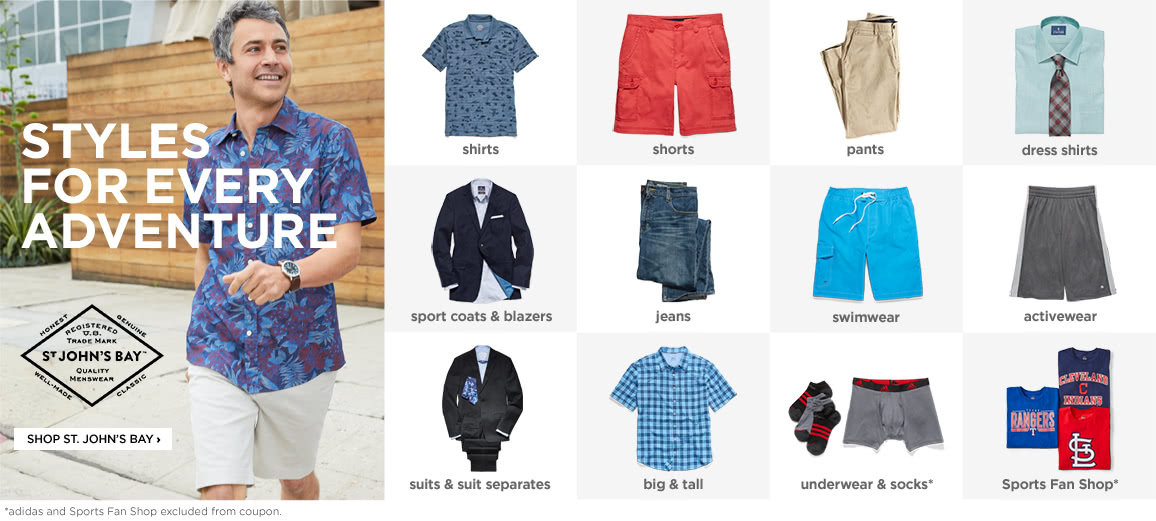 Our Men's Clothing Store Has Everything You Need
JCPenney is one of the premier men's clothing stores in the nation. Dive into our diverse and massive collection of top of the line men's clothes by all of the brands you know and exclusive JCPenney brands! Our men's online store has everything you need to fill your closet for every occasion. Browse our selection of t-shirts, sweat pants, jeans, men's shorts, hoodies and more to find great looking casual wear for all seasons. A stylish navy men's suit is extremely versatile and a must-have in every man's closet, and we're here to offer everything else that complements your new getup perfectly. Shop snazzy dress shirts and high-quality ties that suit you well for any occasion.
From Athletic Clothes to Dress Clothes, Shop for Men's Clothes Online
Perform at your best in Nike athletic gear. As the perfect blend of technology and comfort, you can't go wrong with their Dri-FIT and Therma-FIT apparel. Dri-FIT clothing quickly wicks away sweat from your body to keep you cool, and Therma-FIT keeps you toasty by preventing heat loss. With clean lines, classic patterns, fun colors, you can't go wrong with dress clothes from Collection by Michael Strahan. This line was crafted with the working man in mind. Shop chic men's suits, button downs, slacks, ties, and more! Columbia is well known for it's athletic gear but they also have a wonderful selection of dress clothes as well!
4 Men's Wardrobe Essentials
With our great selection of men's clothing, you have a lot to choose from. Make sure your closet is filled with seven essential clothing items.
1. White and pale blue button down shirts will be your best friends. These tops can be dressed up and down numerous. Whether you wear them with jeans or your favorite suit, you'll always look put together.
2. T-shirts can be worn with just about everything you own. Invest in several white-t shirts to wear underneath other clothing, alone, or as pajamas. Also add a few colored t-shirts to mix things up a bit. You'll find men's t shirts are especially handy in the wintertime as a layering option to place an additional barrier between yourself and the cold.
3. Trench coats are one of the most chic options you can keep your closet. When wearing a shirt and jeans, a trench coat will make the outfit look more pulled together. If you're in your finest formal attire the timeless double breasted construction of a trench coat will only make you look more debonair. A black suit will be versatile until the end of time. There's not much you can't wear with a black suit. The key is finding the proper cut that looks best on you.
4. A leather jacket just exudes cool. It's really easy to make a case for a leather jacket. Not only is it stylish but it's extremely practical. It looks good with work and casual clothes. It's warm, and as long as you treat it right, you'll be able to wear it for many, many years.