Jewelry Trends:
7 Tips on How to Layer Necklaces
Necklaces on their own are an essential staple of anyone's jewelry collection, but the real fun happens when you start layering your necklaces. Layered necklaces open up endless styling possibilities for any outfit, but there is a science to it. If you're not sure how to layer necklaces, JCPenney has assembled some vital tips to help you look your best.
Layering Tip #1: Start with Your Shortest Necklace
When it comes to layering necklaces, it's best to start with the shortest necklace. This creates a foundation for the other necklaces, so you'll know what other lengths you'll need to create the perfect layered necklace look. Bonus Tip: If you're struggling to find the right balance, start with a two-strand necklace and layer in another necklace.
Layering Tip #2: The Right Number of Layers
The most conventional advice for layered necklaces is to wear no more than three strands or chains to achieve the most balanced look. But sometimes a pair two necklaces is more than enough. You could even go up to an assortment of five necklaces if you wanted. It all depends on what looks right on you and what matches your outfit.
Layering Tip #3: Evenly Space Your Necklaces
A perfectly spaced set of necklaces is the key to layering. We recommend at least 2" of space between each necklace, starting from the top necklace (which will be your shortest) down to the last (and longest) necklace. Having space between each necklace will enable each one to shine on their own while also preventing them from getting tangled together.
Layering Tip #4: Mix and Match Your Necklace Styles
The best part about layering necklaces is the ability to create a unique combination that reflects your personal style. Try a short choker necklace paired with a diamond pendant necklace and a longer Y necklace or swap out the pendant with an initial necklace or strand of pearls. Alternatively, you can pick a variety of chunky and delicate chain necklaces that will add depth and contrast to your outfit.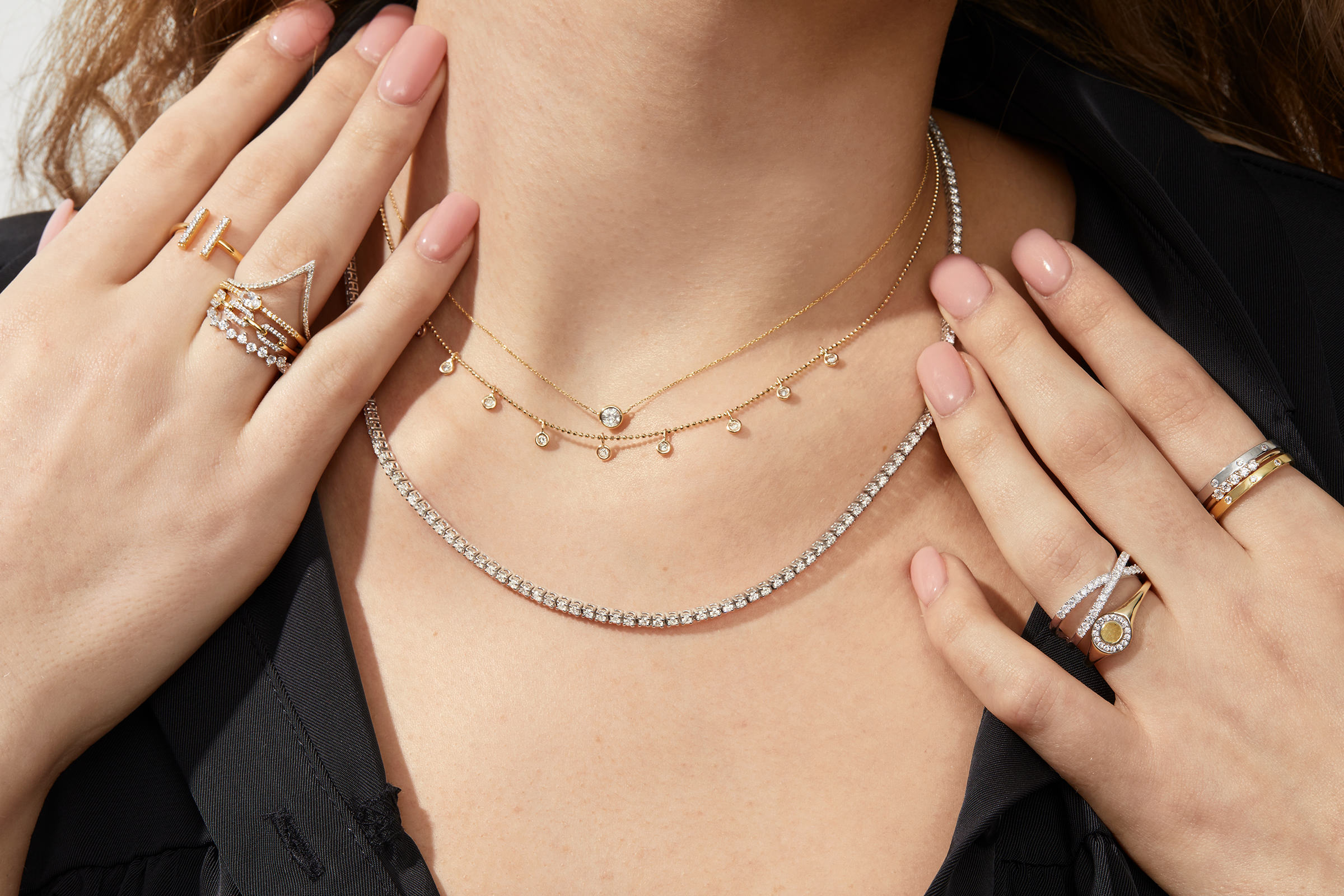 Layering Tip #5: Choose Similar Metal Types and Colors
While it's fun to mix and match metal types with stackable rings, it's best to choose necklaces with the same metal type or color when it comes to layered necklaces. Doing so will help you achieve a simple, yet elegant look — whether it's a pair of gold necklaces, three silver necklaces, or an assortment of rose gold necklaces. And if you're wanting a pop of color, mix in a gemstone pendant to complement your outfit. Bonus Tip: Check out our guide to find the best metal color for your skin tone.
Layering Tip #6: Match Your Necklaces with Your Top
Layered necklaces look great with any outfit, but it's important to consider the length of your necklaces for different tops. Long necklaces look best with V-neck shirts or dresses with plunging necklines, while shorter layered necklaces are ideal if you're wearing something with a tight collar or high neckline. It's also important to consider the colors and patterns of your clothing to make sure your necklaces are enhancing your outfit, rather than clashing with it.
Layering Tip #7: Make a Personal Statement
No matter the number of layers or type of necklaces you choose, layered necklaces are all about making a statement that shows off your personality. Whether you're getting ready for a fancy night out or just a casual get together with friends, layered necklaces will make any outfit shine brighter than before. Experiment with different necklace lengths, styles, and metal types to find the ideal combination for whatever you're wearing.
At JCPenney, we have all the layered necklaces you need to add to your fine jewelry collection, including short gold chains, name and initial pendants, a variety of diamond and gemstone pendants, and all sorts of shapes and styles. We also have a great selection of on-trend fashion necklaces that are great for layering as well, giving you more options to create the perfect set of layered necklaces.
Shop online today and save more with free shipping! Special financing is also available for fine jewelry purchases when using a JCPenney credit card.