Measuring Blinds & Shades
How to measure:
Use a metal measuring tape to ensure accuracy.
Round measurements down to the nearest 1/8".
Measure each window separately. They could vary enough to require differnt size treatments.
Note which measurement is the width (list first) and which is the length (listed second). It is very common to mix up measurements.
Choose inside mount or outside mount.
Inside mount: Inside mounted shades are contained within the window frame. It can provide a finished, built- in look without covering any molding. It is also suggested if additional window treatments will be layered on top.

Requires at least 2" frame depth for most treatments.
Check for any obstacles like handles or cranks that could interfere.
Your window should be square to work properly and hang well. Check by measuring diagonally in both directions and that the variance isn't over 1/2".


Outside mount: Outside mounted blinds or shades are mounted on the wall or molding. They can be used to make a window appear larger, hide less appealing windows, or maximize privacy by eliminating light gaps.
Requires at 2" of flat surface above your window on the frame for mounting the brackets.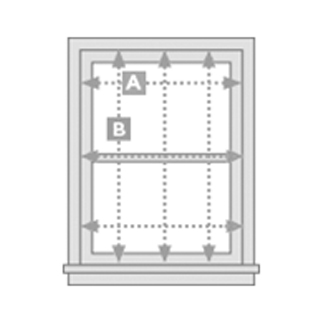 Measuring Inside Mount
Width
Measure to the nearest 1/8" at top, middle and bottom.
Use narrowest measurement as your ordering width.
For roller or solar shades, use only the top width.
Length
Measure to the nearest 1/8" left, center and right side.
Use the longest measurement as your odering height except for horizontal sheers, vertical blinds and sheer verticals where you will want to order the shortest measurement.
Depth
Measure from the wall to the glass.
Account for any obstructions like handles or locks.
Order a flush mount depth that is the same or less than your frame depth.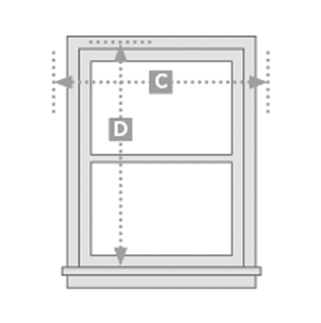 Measuring Outside Mount
Width
Measure exactly where the window covering will be.
Include overlap on each side to reduce light, at least 1 1/2" on each side is recommended.
Length
If you want your window treatment to stack above or to the side of the window or door opening, add the width or height of the stack to your measurement.
Measure from the top of the headrail to widow sill (or to the floor for patio doors. If no sill, measure to where the window covering will end. Include 1 1/2" to 3" for overlap. If you want your blind or shade to rest on the sill, add overlap to the top only.