Choosing the Best Jewelry Metal Type: Which Color is Right for You?
Picking the right piece of jewelry isn't just about choosing the ideal gemstone, it's also about the selecting the best metal type and color for you. But how do you choose the best metal type? With so many color options it can be overwhelming, but that's why JCPenney is here to help! In this Jewelry Metals Guide, we'll break down the most popular metal types and colors and the factors to consider before your next jewelry purchase.
Yellow Gold vs. White Gold: Which is Better?
Yellow gold is the, well, gold standard for most jewelry. It's classic, timeless, and goes with just about every gemstone and outfit – but not everyone likes yellow gold! White gold is a popular alternative, with its silver-like radiance. Choosing between yellow gold and white gold boils down to personal preference; people like what they like and know what looks good for them. However, there are some other things to consider if you're not sure.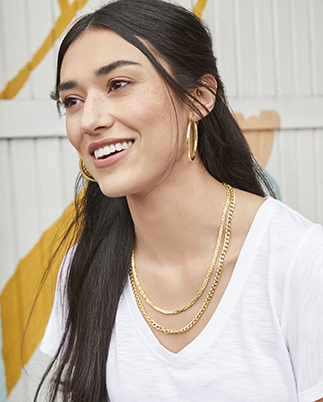 Checking Your Skin Undertone
Skin undertone is likely the biggest factor between wearing yellow gold and white gold. Undertone is also different than skin tone. Skin tone is easily identifiable – fair, medium, olive, and dark – but your undertone is the natural pigment that exudes from beneath the surface of your skin. Undertone impacts your overall look and style, from clothes and makeup, to hair color and jewelry.
Yellow gold works best for people with warm undertones, but it tends to wash out people with cool undertones. White gold, on the other hand, tends to flatter all skin undertones. If you're not sure what your undertone is, here's a quick rundown.
Warm skin undertone contains more golden or peachy hues in fair skin, and warm brown or honeyed hues in darker skin. Yellow gold will look radiant on you.
Cool skin undertone has hints of red, pink, or even blue in fair skin, and has more red, gray, or violet hues in darker skin. White gold is the ideal choice for you.
Neutral skin undertone is a combination of hues found in both warm and cool undertones. You'll look stunning with either gold color, but you might have a personal preference.
A quick way to check your undertone is by looking at the veins in your underside of your wrist. People with warm skin undertones have greenish veins, cool skin undertones will have blue or purple veins, and neutral skin tones will have a mix of blue and green veins.
It should also be noted that skin undertone should be considered for all jewelry metal types, not just gold. Warm undertones look best with yellow-color jewelry, and cool undertones look best with white-color jewelry of any kind.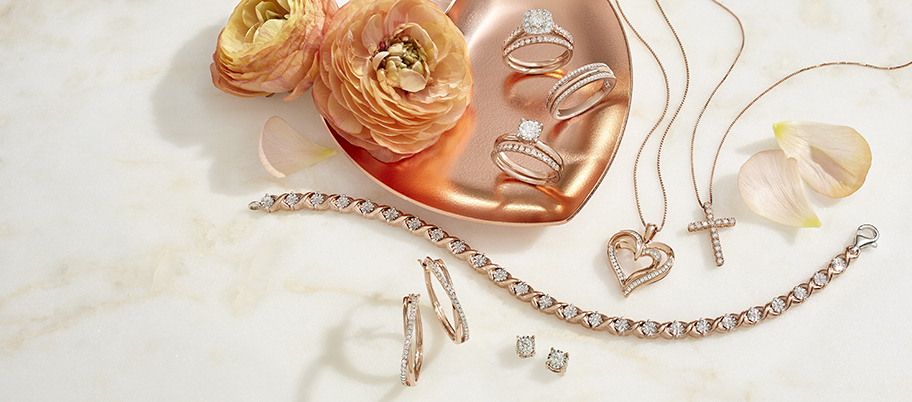 Different Types of Gold: White Gold, Rose Gold, and Karats
While extremely popular, white gold is not pure gold. 24 karat gold is pure and naturally yellow, but it's generally too soft to be used for jewelry. As a result, pure gold is mixed with other alloys like copper and silver to strengthen the metal – and the more alloys combined with the gold, the less pure it becomes. 18k gold is 18 parts pure gold plus 6 parts other metals, 14k gold has 10 parts other metals, and 10k gold has 14 parts other metals. The finished gold can change color depending on the metals used.
To get white gold you mix pure gold with at least one white alloy, like nickel, zinc, or palladium. Rose gold — another highly-sought-after metal type — is formed when yellow gold is mixed with copper, resulting in its signature rosy pink color. The more copper used, the darker the pink color. Both white gold and rose gold are measured in karats as well.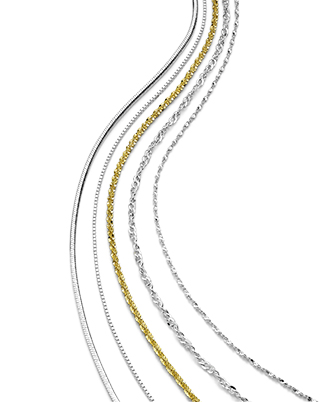 Silver vs. Sterling Silver
Silver is another white metal type, but pure silver is extremely soft and thus prone to damage, making it less than ideal for jewelry. Instead, pure silver is mixed with other metal alloys like copper to reinforce its strength and hardness, resulting in sterling silver. Sterling silver is 92.5% pure silver, making it a more affordable but equally fashionable option to white gold.
That said, sterling silver jewelry is more prone to tarnish than other metals, namely silver sulfide, which is an atmospheric reaction resulting in a black finish forming on the jewelry. To keep your sterling silver jewelry looking bright and shiny, it's important to clean and polish it with either a mild detergent or store-bought polish.
Alternative Metals: Platinum, Titanium, Stainless Steel, and Tungsten
There are several other contemporary metal alternatives to gold and sterling silver, which might suit you better based on your needs and budget.
Platinum is valued as the most precious metal type used in jewelry because it must be 95% pure by law, and it's difficult to work with. It's much stronger, heavier, and rarer than gold, and keeps its brilliant shine with no color change. It's purity also makes it more hypoallergenic than gold or silver, but it's required purity makes platinum jewelry quite expensive. Palladium is related to platinum, but it's much lighter and typically more affordable.
Titanium is also very strong, pure metal – three times stronger than steel – but it weighs less than a third than gold. It's also hypoallergenic, and while gray is its natural color, it can come in other colors by either mixing a small percentage of other metals, or by applying an overcoating or plating to change its color. And while titanium resists corrosion, it scratches easily. Titanium rings also cannot be resized, engraved, or set with stones – so keep that in mind!
Stainless steel is about as straightforward as you can get. Unlike regular steel, it contains chromium, which prevents rust and corrosion, and it's a super durable metal. It's ideal for watches and other types of daily-wear jewelry. It naturally occurs in a gray color, but the color can be altered using the same processes as titanium.
Tungsten is a more popular alternative to both titanium and stainless steel when it comes to men's jewelry. Not only is it hypoallergenic, tungsten is twice as dense as steel, ten times harder than 18k gold, and extremely resistant to scratching and corrosion. When tungsten is mixed with carbon, it forms a compound called tungsten carbide, which is even more durable than standard tungsten.
Of course, there are many other metal types that are used in jewelry, like gold over brass, cobalt, and even ceramic jewelry – but whatever type of metal you choose, it simply boils down to personal preference and what looks best for you.
At JCPenney, we have a massive collection of fine jewelry crafted from all of these metal types and more. Shop online for your next favorite piece of metal jewelry and take advantage of special financing when using a JCPenney credit card.