Christmas Tree Buying Guide
Learn How to Pick The Best Artificial Tree for Your Space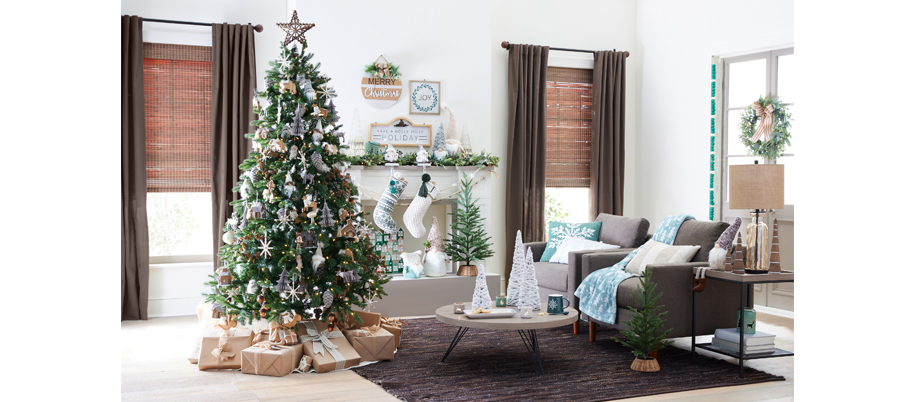 Christmas trees are a beautiful and festive addition to your home in the holidays. Decorating trees is also a great part of many family traditions. You need the perfect tree for your personal taste and personal space. Picking the perfect artificial Christmas tree can be a confusing and overwhelming task. Luckily, JCPenney is here to help you understand all the different features, types of trees, tree heights, tree realism, styles, lights, and more. All to help you decide which artificial Christmas tree is best for you and the needs of your home and family this holiday season. Our trees and decorations will help you find the perfect items to complement every style.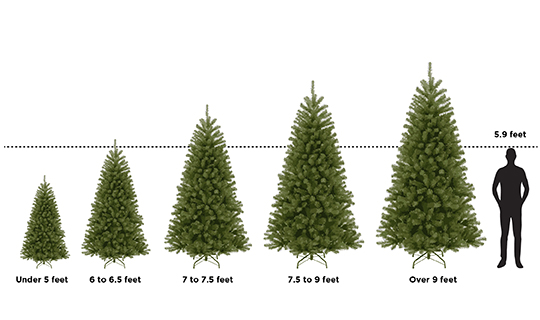 How to choose the right tree height
Artificial Christmas trees can come in a variety of heights. The best way to decide on the right tree height for you is to consider your space in the room you plan to put the tree in and if you want the tree to fill a room or add as an accent piece. As a best practice, you'll want to select a tree that is at least 6 inches shorter than your ceiling, or 18 inches shorter if you plan on adding a tree topper. The typical height of a ceiling in a home is 8-9 feet.
Under 6 feet trees: Ideal for tabletops, decorative accents, small spaces, entryways, or kids' bedrooms.
6-8 feet trees: The most common tree size and perfect for most homes with average height ceilings.
Over 8 feet trees: Great for homes with taller than average ceilings, two story homes, and perfect for a space where you want your tree to be dramatic and a focal point of the room.
Tip: Tree height is the height of the tree when the tree is set in the included stand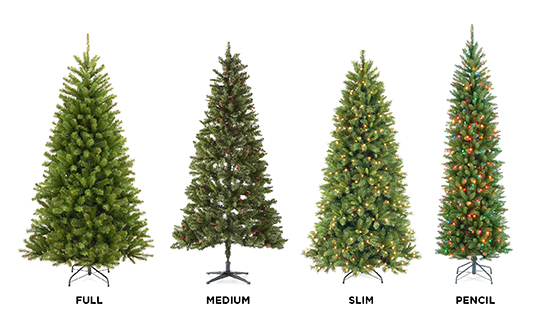 Tree Width
You can choose the width of your tree based off your preferred tree style, how much space you want your tree to take, and based off the measurements of the room or space you're wanting to put your tree in. The width of a Christmas tree, or diameter, is measured at the tree's widest point.
Full (wide): This is the width of most typical trees. They usually are 7-7 1/2 feet tall and 56-64 inches wide. The height of a full width tree should measure about 1 ½ times it's diameter. For a 7-foot-tall tree, look for a diameter of at least 47 inches.
Medium: The height of a medium width tree is 1 ½-2 times it's diameter. A 7-foot medium width tree will be 39-46 inches wide.
Slim: These are great for narrow spaces. A slim tree's height is at least twice it's diameter. A slim 7-foot tree will have a diameter of 38 inches or less.
Pencil: Another popular option for small spaces, because of its very slim shape. A typical pencil tree will have a bottom diameter ranging from 19 inches -23 inches.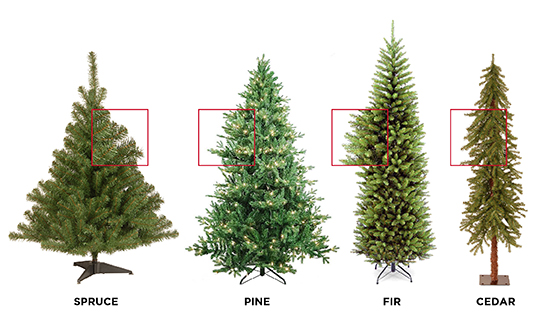 Types of Artificial Christmas Trees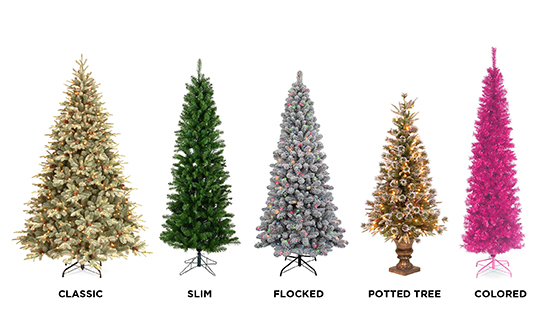 Tree Styles
Just like your decorations, the style of your tree is a chance to add your own spin on the classic look.
Classic: A great way to start with a classic holiday look, with an always in style pre-lit evergreen tree.
Slim: These trees are great for small or narrow spaces, or corners. These are also a great option if you want the tree to share the spotlight with your other décor instead of it being the focal point of your room.
Flocked: Make a statement with the look of fresh snow and a winter wonderland, without the cold or mess of real snow. "How to flock an artificial Christmas tree".
Potted Trees: Typically for smaller trees and used as accents in your home or desired space.
Colored: Go bold with a modern or playful tree buy choosing a non- traditional color like a pink, red, or white tree.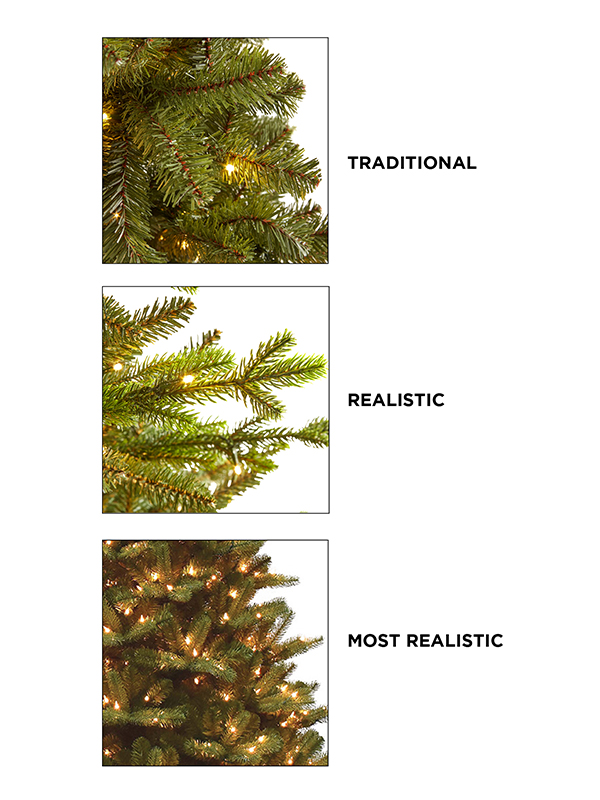 Tree Realism & Branches
The material makeup of your tree and branches is a defining factor of how realistic your artificial tree will look and how much of an investment you want your tree to be. PE and PVC are the two main types of materials used in artificial trees, broken out into three types of artificial trees: Traditional, Realistic, and Most Realistic.
PE vs PVC
PVC: Flexible and easy to shape with the look of bottle brushes. PVC branches are flatter and thinner and are the most traditional artificial tree branches.
PE: For a full textured and more realistic look, a tree with full PE or PE/PVC branches is the ideal choice. PE branches have a realistic look and feel, since they have more dimension to them.
Traditional: Our traditional trees contain 100% PVC branches. These are the most budget friendly types of trees, carrying flexible and easy to shape branches. These traditional trees give a timeless look which resembles a real life evergreen tree, but are not very realistic.
Realistic: A great mix of the higher end and more realistic PE material and the more traditional PVC material. A great option for a budget friendly yet beautiful tree. Our realistic trees have up to 65% PE material.
Most Realistic: "What are the best artificial Christmas trees?" Well, here's your answer! Our most realistic trees are our most beautiful and realistic artificial Christmas trees. These trees boast more than 65% PE branches for a high quality and very realistic tree.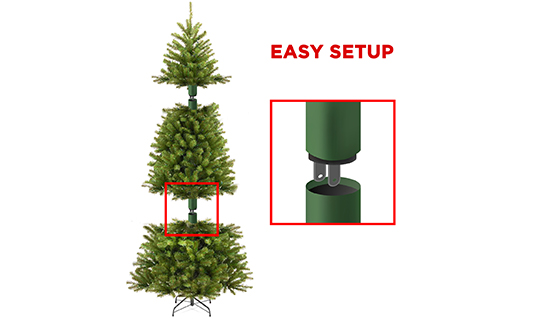 Features & Benefits
No-hassle assembly means no dealing with light strings. Plug in power cord at the bottom, connect the center poles, and you're ready to go! Our easy setup trees include the plugs within the poles, so when you set your tree up and stack the pieces on top, your lights are automatically plugged in and ready to be turned on – making this the easiest Christmas tree setup ever! This feature also helps minimize the appearance of wires on your tree.
Pre-lit trees help you avoid stringing lights or storing bundles of lights, making your tree more flawless with less hassle.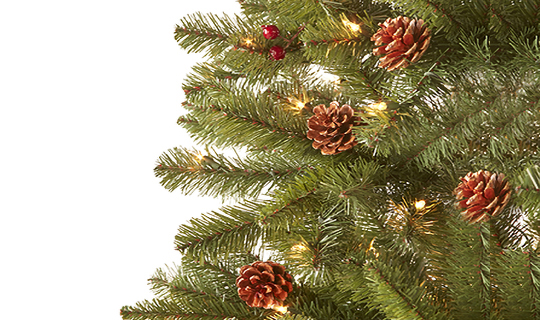 Lighting
Pre-lit trees help you avoid stringing lights or storing bundles of lights. The most common lights affixed to branches on artificial trees are either incandescent or LED lights. You can also choose different colored light options, depending on your style and color preference.
Multi color: Mutli colored Christmas tree lights bring bold, playful, and fun colors to a classic tree in your desired space.
White: White lights on a Christmas tree are a great way to keep a classic look yet bring extra warmth into your home.
LED: LED lights are known as energy savers. These lights can mimic a warm glow with more efficient power.
Incandescent: Incandescent lights give a warm glow and sublte light. Look for trees with a higher light count.
Color changing: Color changing lights are a great way to make your tree more fun and an easy way to keep your tree looking different each time guests come over. They can be white or colorful, so it's the best of both worlds.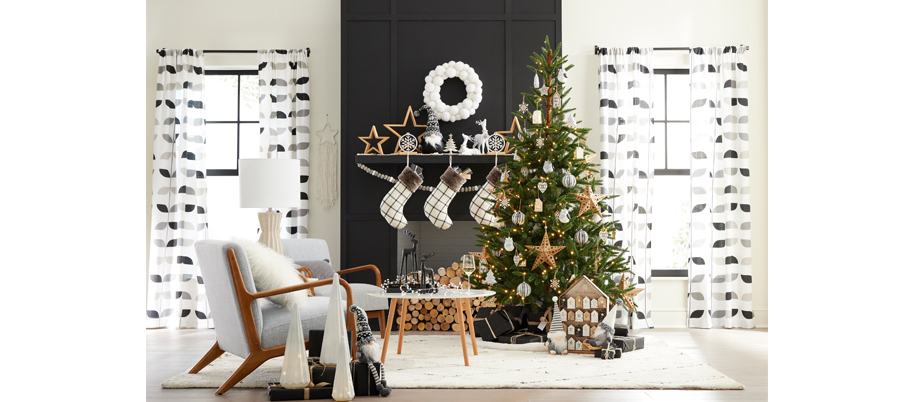 Frequently Asked Questions & Tips
How to store an artificial Christmas tree?
Store your tree in a dry place to uphold its best condition. Storage bags are a great option to hold off the elements and dust from your tree. Sturdy and quality bags can be used for your tree year over year. There are even rolling storage bags for you to purchase to prevent you having to lift and carry a heavy tree.
How to clean an artificial Christmas tree?
You can use either a feather duster or microfiber cloth to gently dust or wipe the branches, ornaments, and other decorations on your tree before setting up this Holiday season and before packing your items away after the season is over.
How long do artificial Christmas trees last?
An artificial tree can last for many years, much longer of course than a real tree. They can last for a range of years based on how they are used, cared for, cleaned, and stored. If you take good care of your artificial tree, it will last you season after season.
How to pick and choose an artificial Christmas tree?
The best way to choose an artificial tree is to find what fits best for you and your needs. This means, measuring your space to determine how big of a tree your space can hold. Then, deciding if you want this tree to be a focal point or an accent in that space. Once you've made a decision on both of these, you'll be able to narrow down the height and width of the artificial tree that will be best for you. From there you can decide what features are most important to you for your tree to have (easy setup, pre- lit). After you've listed out all of your tree needs, you can move onto the fun part – choosing your style! This includes how realistic of a tree you want, what color tree and lights you want, and if you want a specific style like Pine or Spruce. Once you've checked everything off your list, you'll be left with the perfect tree for you!
Real or Artificial Christmas Tree?
This is an age-old question. Artificial trees fit so many needs and are much easier overall than a real tree. You can make your memories and spend your quality family time decorating your tree and sipping hot chocolate in the comfort of your home, instead of finding a tree farm to buy a real tree from. You can take one thing off your busy holiday to do list by choosing an artificial tree, you can order one online and have it delivered right to your door. There's also less upkeep with an artificial tree; no watering, no picking up fallen needles, and no worry about how and where to dispose your tree after the holiday is over. Artificial trees are safer than real ones, you don't have to worry about allergies or dried out needles catching fire. Artificial trees are also a better investment and more cost effective because they last much longer than real trees. You can use them again year after year, and they will still look great!