Jewelry Trends:
How to Wear Stackable Bracelets
Figuring out the best way to stack bracelets (and what to wear with them) is the key to mastering the stackable bracelets jewelry trend. In this JCPenney jewelry guide, we'll cover the basics of stacking bracelets, like what kinds of bracelets to wear, how many to wear, what order to wear them, and how to mix and match to create your own signature look.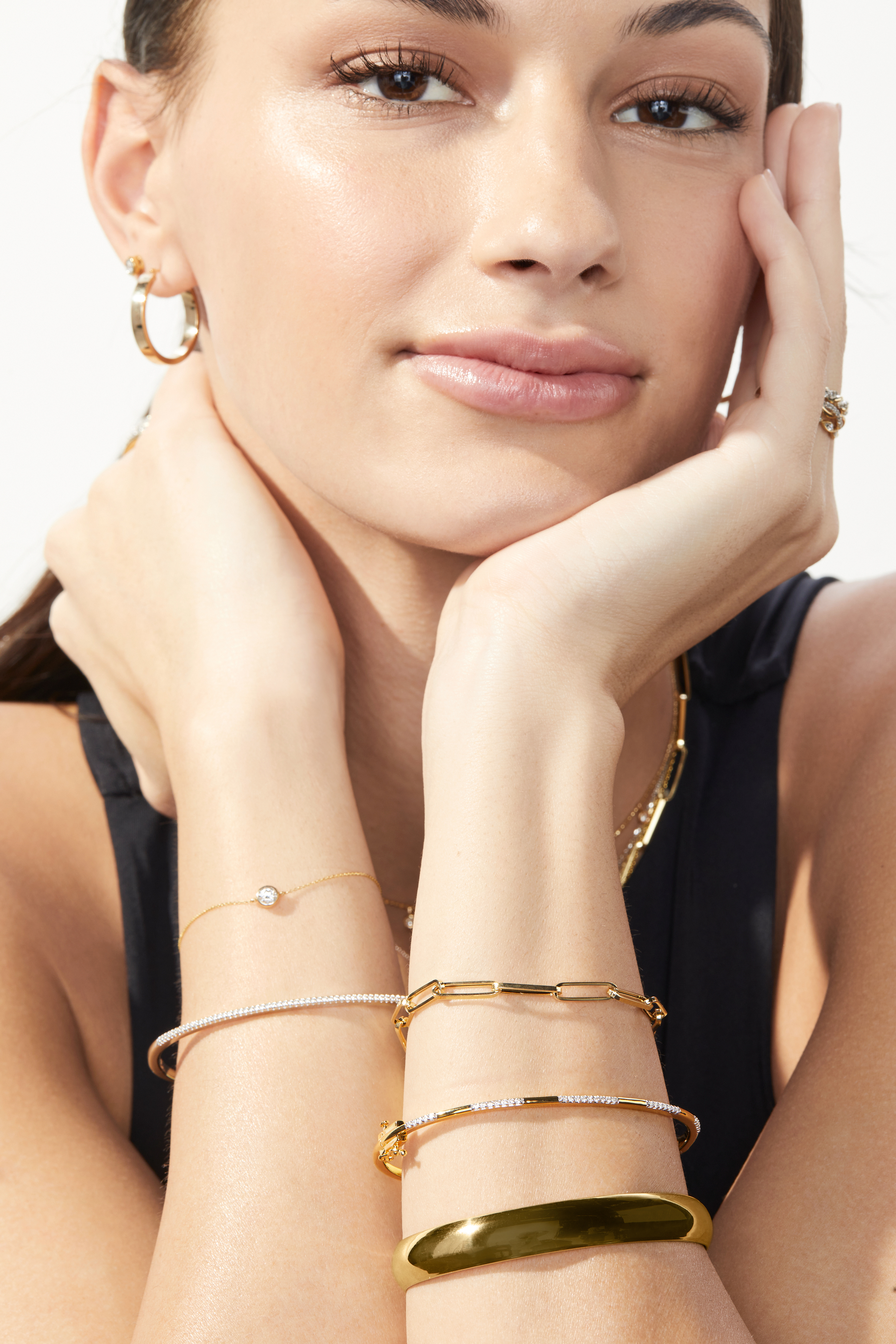 How to Stack Bracelets: First Choose a Theme
Before you start throwing on an assortment of bracelets, it's important to understand your theme. If you're going for a professional look, choose a variety of understated bracelets, such as chain bracelets, link bracelets, or bangle bracelets For something more casual, cute charm bracelets, beaded stretch bracelets, or cuff bracelets are all great choices. And for special or formal occasions, you can't go wrong with diamond bolo bracelets or tennis bracelets. Once you've landed on the theme and the types of bracelets you want to wear, the stacking can begin.
Bracelet Stacking Tip #1:
Base your bracelet theme around what you're going to wear. This will ensure a consistent look and complement your outfit, rather than detract or distract.
How Many Bracelets Should You Wear?
Like stackable rings and layered necklaces, sometimes less is more when wearing multiple pieces of jewelry. In the case of stacking bracelets, we recommend starting with just 3-4 bracelets that share a common theme – whether that's wearing different sizes the same type of bracelet, like multiple bangle bracelets, or choosing a few different styles of bracelets in complementing metal types or colors. Once you have a good feel of how the stacked bracelets look on you, and if you still want to wear more, then you shouldn't cover more than 1/3 of your forearm with your bracelets.
Bracelet Stacking Tip #2:
If you want to wear a stack of bracelets on both wrists, it's best to have a just a few on each. For example, if you normally wear 5-10 bracelets on one arm, reduce it down to 3-5 on each wrist.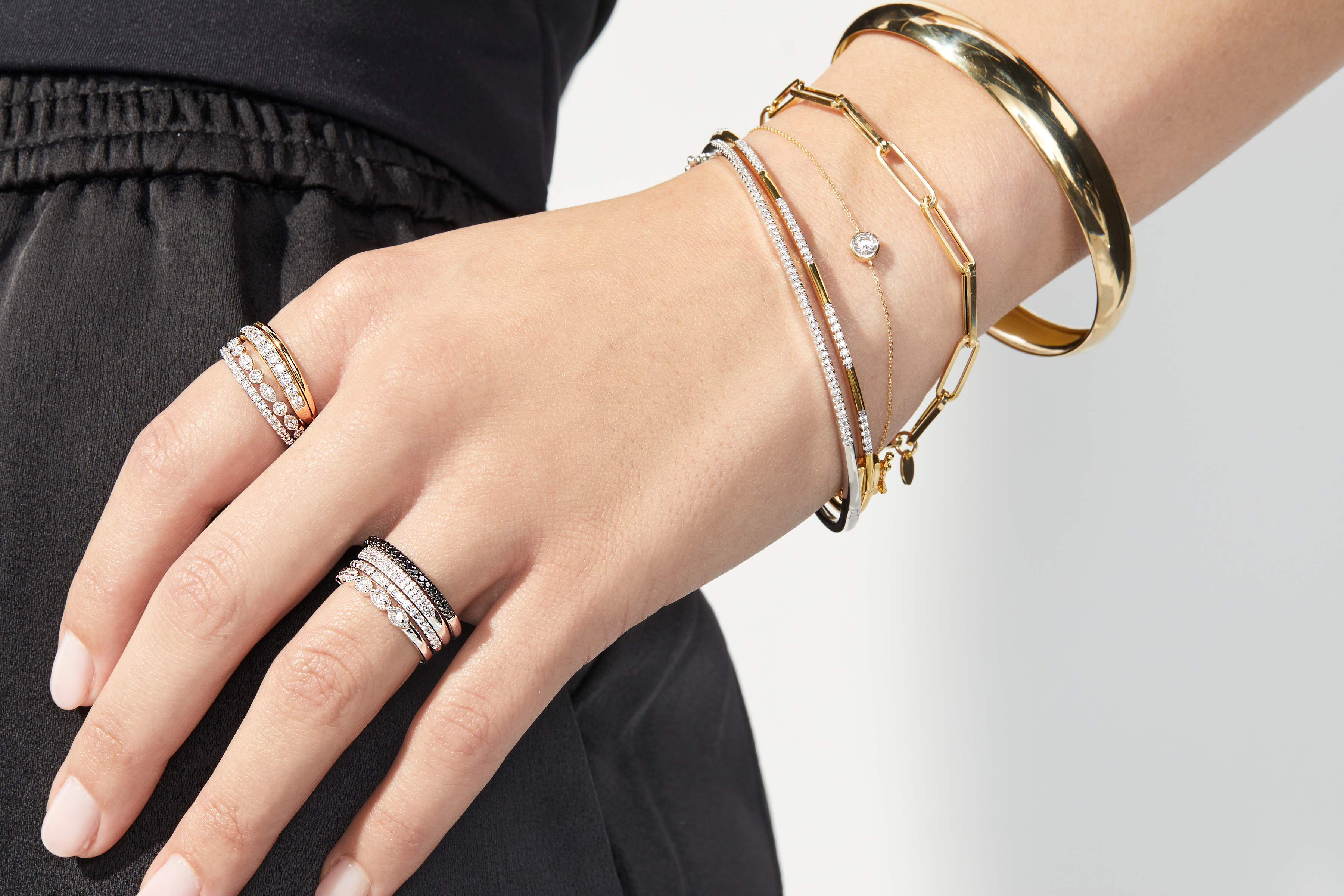 What Order Should You Stack Your Bracelets?
The order you stack your bracelets depends on the types of bracelets you're wearing. A thick or bulky bracelet makes for a great foundation, or focal point, for the rest of your smaller layers, such as a wide metal cuff bracelet, chunky chain bracelet, or decorative charm bracelet. You could even use a watch as the base and choose matching bracelets to wear around it to dress up your look. Alternatively, you can use a thinner bracelet as your focal point, such as a diamond tennis bracelet stacked between larger bangle bracelets. It's all about finding balance between your foundation bracelet and the accent pieces.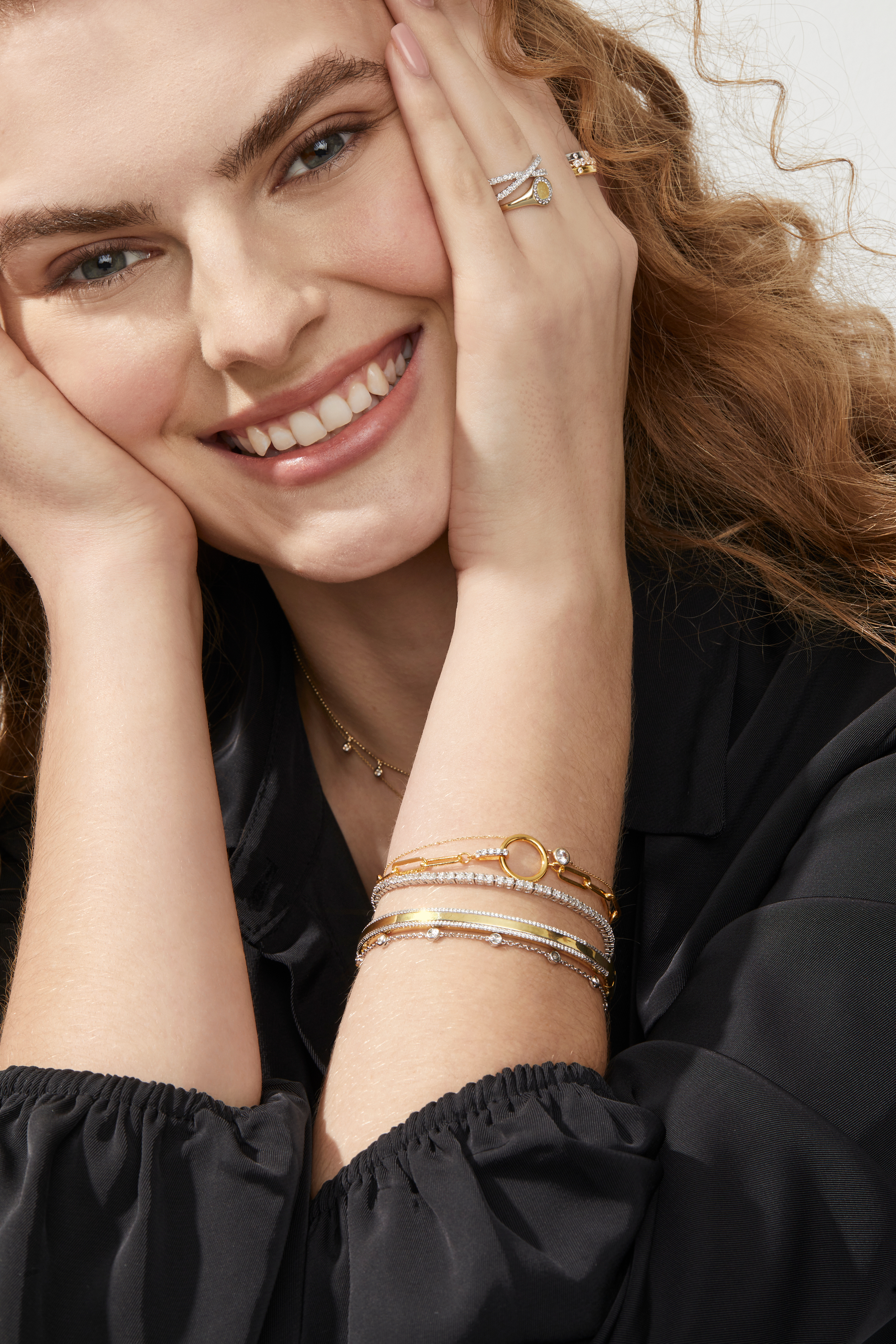 Bracelet Stacking Tip #3:
If you're having trouble finding the right combination of bracelets, lay them out them on a flat surface to see how that combination will look before putting them on.
Stackable Bracelet Styles: To Mix or To Match?
The great thing about stackable bracelets is that you can stack just about anything. Choose matching bracelets of the same type or color for a uniform, monochromatic look, or mix it up with different styles, colors, materials, and sizes for a more visually exciting look. You could even stack several thinner bracelets to have even more variety. Whatever you choose, just make sure your stacked bracelets match your outfit to maximize your sense of fashion.
Bracelet Stacking Tip #4:
When wearing a stack of different bracelets, best practice is to space out the types, sizes, and colors of your bracelets to maintain a balanced stack.
Find the Best Stackable Bracelets at JCPenney
Whether you're looking to get into the stackable bracelet trend for the first time, or you want to add to your existing bracelet collection, JCPenney has all the trendiest pieces you need to build the perfect stack of bracelets – and be sure to explore the latest jewelry trends in our jewelry trend shop! Find your favorite pieces online today and save more with free shipping. Special financing is also available on fine jewelry purchases when using a JCPenney credit card.