May Birthstone Jewelry: The Enchanting Emerald
Emerald is the traditional birthstone for May, a green gemstone representing renewal and rebirth – a fitting springtime birthstone! The name "emerald" comes from the ancient Greek word "smaragdos" meaning "green gem," and it has been revered throughout history – from ancient Rome and Egypt, to the Middle Ages in Europe and Spain, and the Golden Age of Hollywood. Keep reading to learn more about emerald, how to care for it, and what makes the May birthstone so special.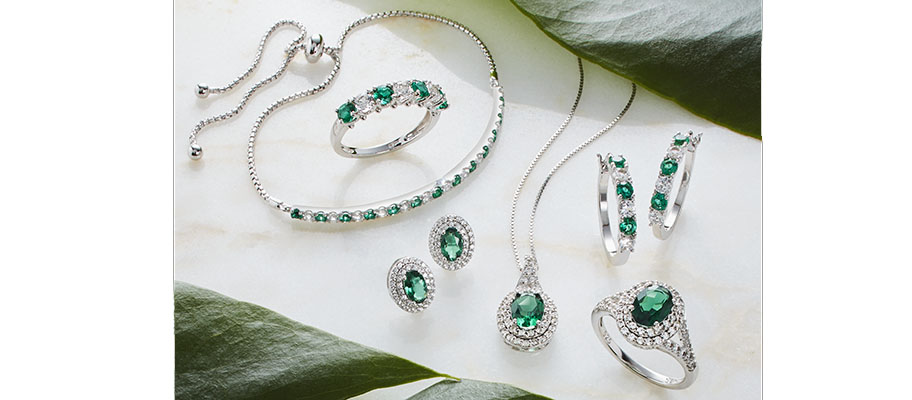 What is an Emerald and What Color is It?
Emerald is a variety of beryl, a mineral family that also includes morganite and aquamarine. Beryl is uniquely famous for its six-sided, hexagonal crystal structure, with some crystals growing up to a foot long. But what sets emeralds apart is their signature green color. Emeralds can be found in hues ranging from yellow-green to blue-green, depending on the impurities within the beryl crystal, with the primary hue being green. However, only the stones that are medium to dark in color tone are considered emeralds. A light-toned "emerald" is classified as "green beryl." The finest, most-desired emeralds have a color tone of roughly 75% on a scale where 0% is no color and 100% is opaque black. A fine emerald will also have a brightly saturated green color.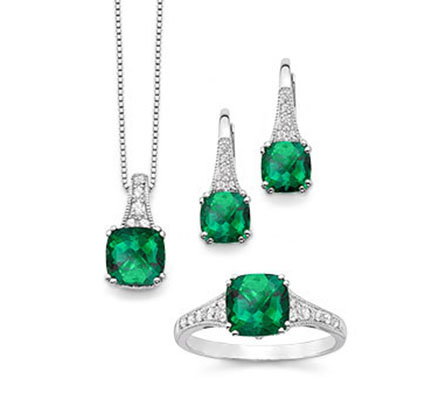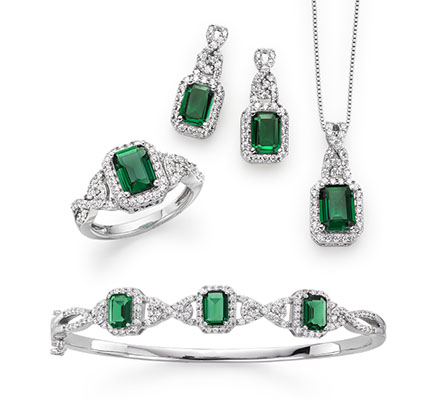 What is the Meaning and History of Emeralds?
The oldest known emerald specimens are nearly 3 billion years old, and the May birthstone has been highly regarded across the world. In ancient Rome, emeralds were believed to hold therapeutic properties that would help with eye fatigue – especially with gem cutters of the time. In ancient Egypt, emeralds were worn as jewelry and used in burial ceremonies as a symbol of protection. In the Middle Ages, it was believed emeralds could let you see the future by placing the gemstone under your tongue. Today, the May birthstone symbolizes loyalty, rebirth, peace, unity, and romance.
Emerald gemstones have long enchanted rulers and royalty, dating back to Incan emperors and Egyptian pharaohs. Most notable was Cleopatra, who was known for her love of emeralds and wore them upon her royal adornments. This love for emeralds was carried into the 20th century by Hollywood Golden Age actress, Elizabeth Taylor, who portrayed Cleopatra on the big screen and had quite the famous emerald jewelry collection herself. The Crown of the Andes, made in the 1590s, is also famous for being adorned with 450 emeralds – the largest of which is believed to have belonged to the Incan Emperor Atahualpa. Today, the emerald is not only the birthstone for May, it's also given as the gemstone for 20th and 35th wedding anniversaries.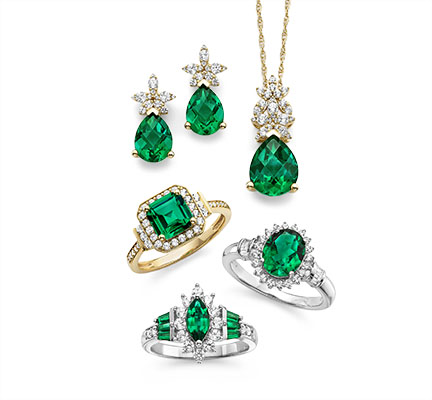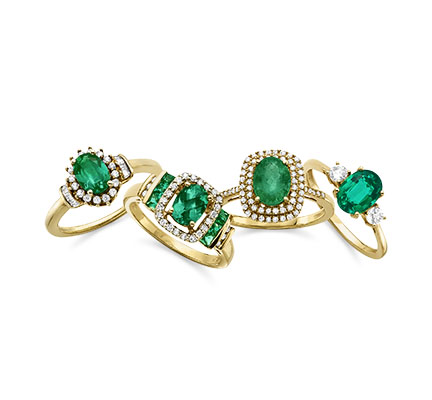 How to Care for Emerald Jewelry: Cleaning and Storage
While beryl is marked high on the Mohs scale of hardness at 7.5-8, genuine emeralds are highly included – meaning they have many fractures and fissures. Because of this, their toughness is classified as generally poor, so it's best not to use an ultrasonic cleaner or high heat when cleaning your emerald jewelry. A gentle soap and warm water is the ideal way to clean genuine emeralds.
It should be noted that lab-created emeralds tend to have fewer fractures than genuine emeralds, but care should still be taken when handling lab-created emeralds. For storage of either lab-created or genuine emeralds, they should be separated from harder stones like diamonds and rubies to avoid unwanted scratching and damage.
If you're looking for genuine or lab-created emerald jewelry, JCPenney has a stunning collection of May birthstone jewelry. Shop online for emerald earrings, cocktail rings, pendant necklaces, and more emerald jewelry options. We also have special financing for fine jewelry purchases made with a JCPenney credit card, making it easier than ever to shop May birthstone jewelry.