Halo Rings 101: What is a Halo Ring?
For those looking for some serious sparkle, a halo ring provides exactly that – and then some. It's a stunning alternative to the classic solitaire engagement ring, and available in a variety of styles. Keep reading to learn more about halo rings, their history, and things to keep in mind before making your purchase.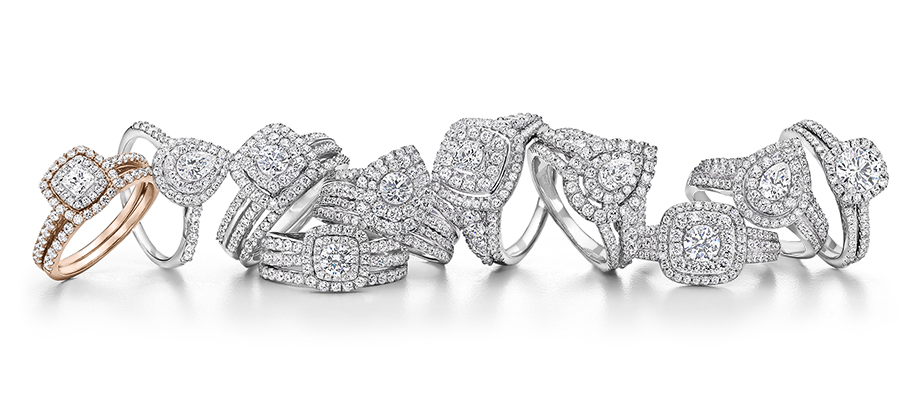 What is a Halo Ring?
The halo ring style typically features a large center diamond or gemstone surrounded by a row of smaller round pavé or micro-pavé diamonds to give it that "halo" effect. The row of pavé diamonds brilliantly refract the light, putting the center stone into the shimmering spotlight. Alternatively, a halo ring can feature a cluster of small stones in the center that are then surrounded by a halo of diamonds, creating the sparkling illusion of a larger stone.
Like wedding bands, halo rings represent the eternal love and commitment of a relationship, making them a perfect choice for an engagement ring.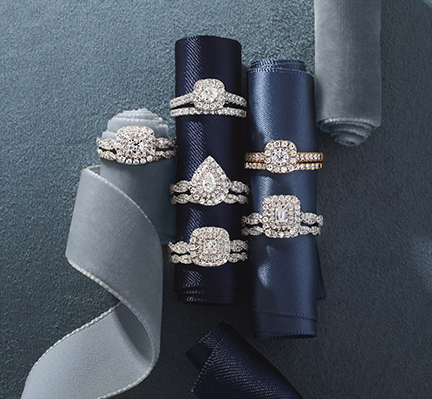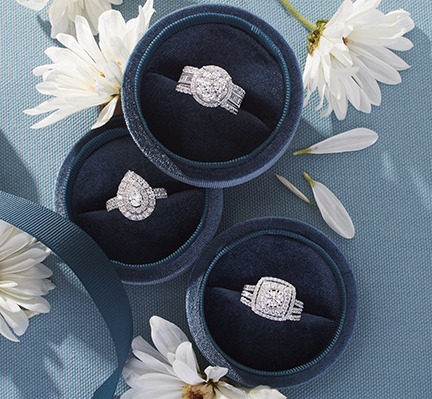 History of Halo Rings
The origin of halo rings can be traced back to the early Georgian Era (1714-1837) in Europe, when jewelry would use a round diamond or pearl surrounded by slightly smaller diamonds. Their popularity grew in the Victorian era (1837-1901), which witnessed the inclusion of colored gemstones as center stones to imitate flowers. Then, in the Art Deco Period of the 1920s, halo ring styles found renewed popularity, thanks to their inherent symmetry and dazzling geometric patterns, which complemented the Art Deco aesthetic.
Today, some halo rings have a modern twist on the vintage style. For example, some rings have intricate detailing around the center stone, while others have not one, but two or three halos surrounding the center stone for an amplified halo effect.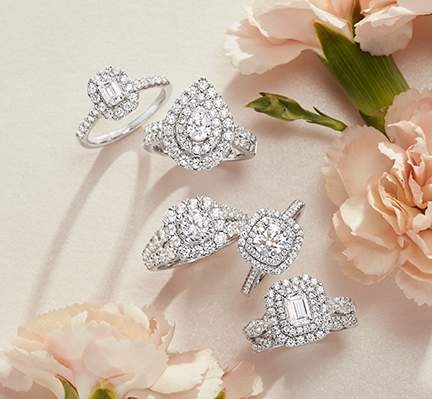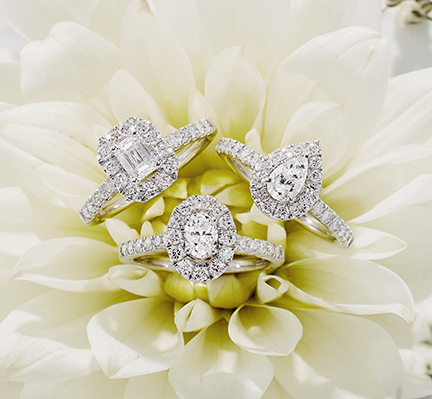 Different Types of Halo Rings
There are three key things to consider before making a halo ring purchase: diamond shape and cut, diamond color, and metal type.
Stone Cut and Shape
The beauty of a halo ring is that its setting accepts any stone shape in the center. A round-cut stone is the most sought-after for perfect symmetry, but fancy-shaped center stones are equally glamorous. Thanks to the halo style, shapes with defined points – like pear or heart ¬– are softened and protected from harmful objects that can scratch or chip them. Emerald-cut or oval-cut diamonds are other excellent choices for halo rings. For more information about diamond cuts, check out the 4Cs of diamonds guide.
Gemstone Color
Generally, white diamonds are used all over the halo ring, but colored diamonds or gemstones can also be a unique choice. At JCPenney, you can find halo engagement rings that use a black or white diamond at the center, or you can choose from a beautiful assortment of gemstone halo rings that feature emeralds, sapphires, or opals as the center stones.
Metal Type
The popular metals for halo engagement rings include white gold, sterling silver, rose gold, and yellow gold. Usually, the color of the metal makes the center gemstone appear larger. You can even find two-tone metal options, like yellow gold and white gold or rose gold and white gold. If you're not sure which metal type would look best on you, check out our jewelry metal type and color guide.
At JCPenney, we have an irresistible collection of halo engagement rings. Whether you're looking for halo rings featuring diamonds or gemstones, we have a large selection available with a variety of cuts, shapes, and styles to choose from. Shop online today and save on halo rings, with special financing available if you use a JCPenney credit card.