Window Hardware Buying Guide
How To Shop For Curtain Rods & Accessories
What is curtains hardware? The term "curtain hardware" usually refers to all different types of curtain rods: single, double, traverse, bay window specialty rods, tension, magnetic rods, café rods, sash rods, outdoor rods, and other complementing accessories such as curtain clip rings, curtain holdbacks, hairpin holdbacks, magnetic holdbacks; finials, including mix & match finials, and wall brackets. In short – the products that allow you to hang your curtains securely and attractively.

Whether you're a fan of modern or more traditional style, JCPenney offers a variety of curtain rods and accessories to fit every room, every window, every lifestyle.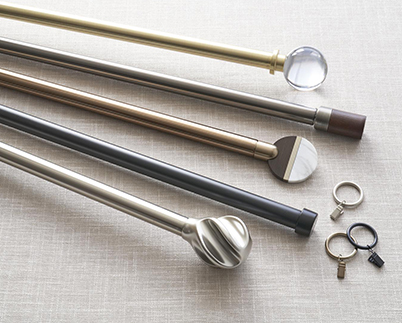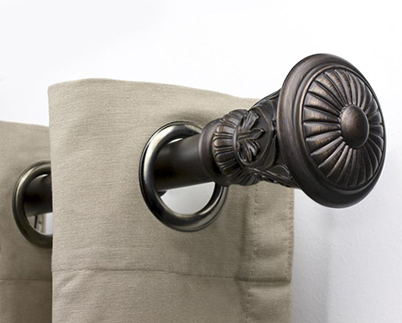 Traditional
If you lean towards traditional style, you will like these curtain rods and accessories from Bali Window Co., an industry leader in all things window.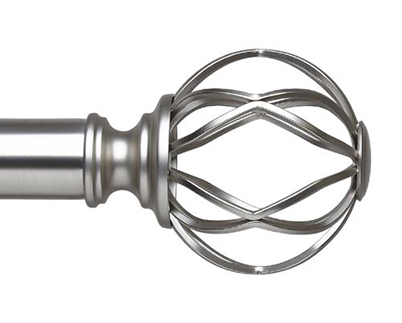 Contemporary
Try these contemporary styles that will enhance the beauty of your home and will continue to stay relevant for years to come.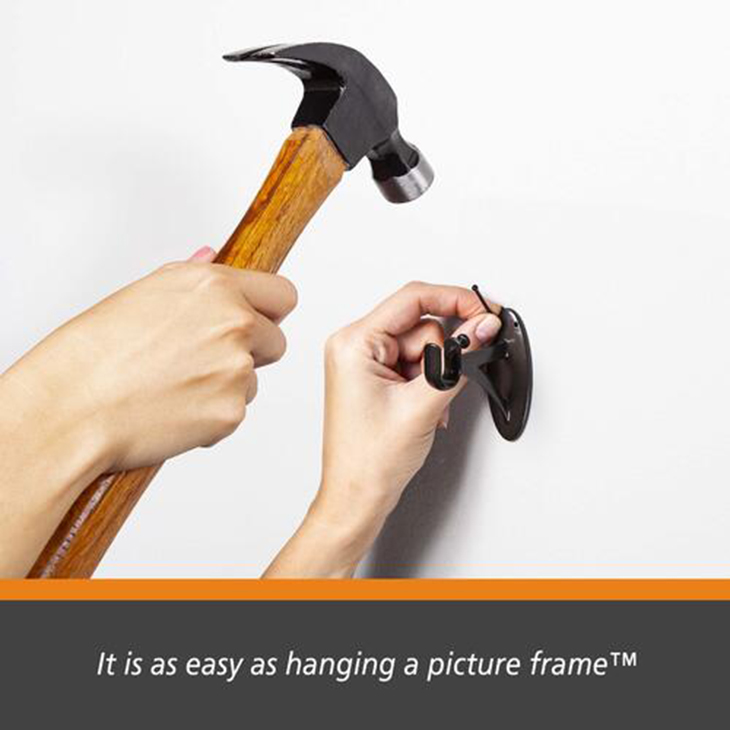 Fast Fit Easy Install™ is a program from Kenney that will allow you to easily transform your room without ton of extra effort. All the hardware you will need – brackets & nails – comes included with the rod purchase.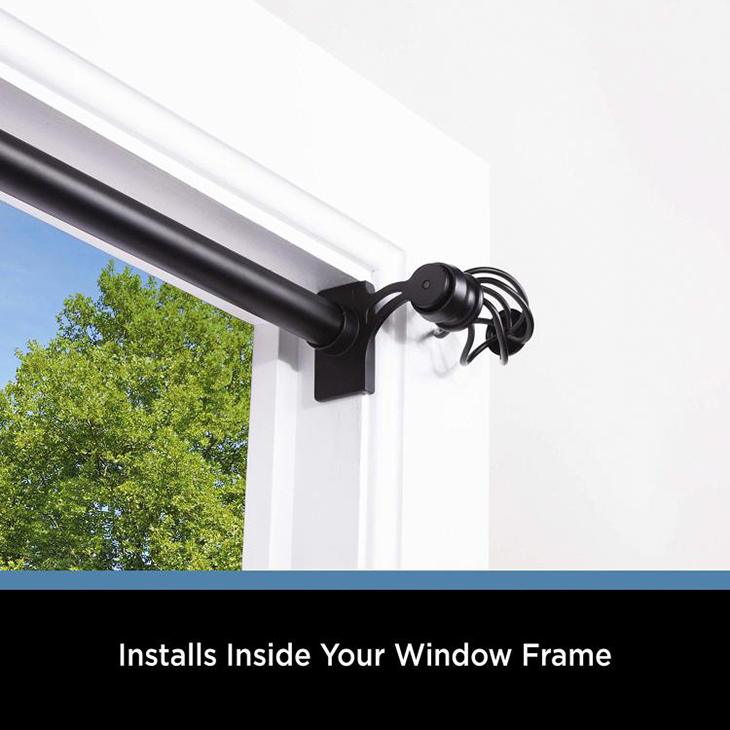 Fast Fit No Tool™ program does not even require you to use a drill or hammer – the rod will be installed inside your window frame with a simple turn and twist.
Types Of Curtain Rods
It is important to understand why the different types of curtain rods exist, and when you may want to choose one type of rod over another to add functionality as well as style to your window.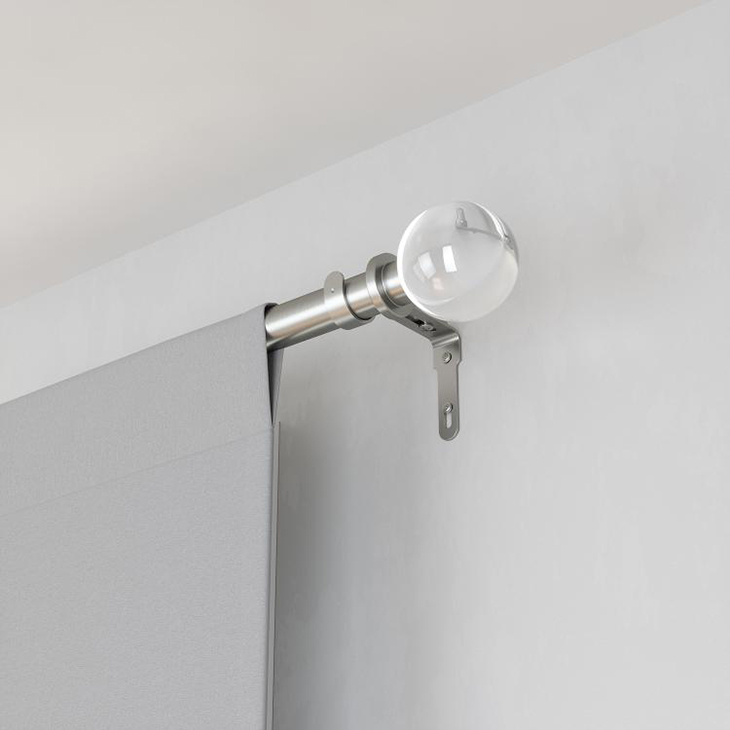 A classic approach to hanging drapes of all weight variances. Lightweight to heavyweight curtains can be used. Great for spaces such as living rooms, dining rooms and bedrooms.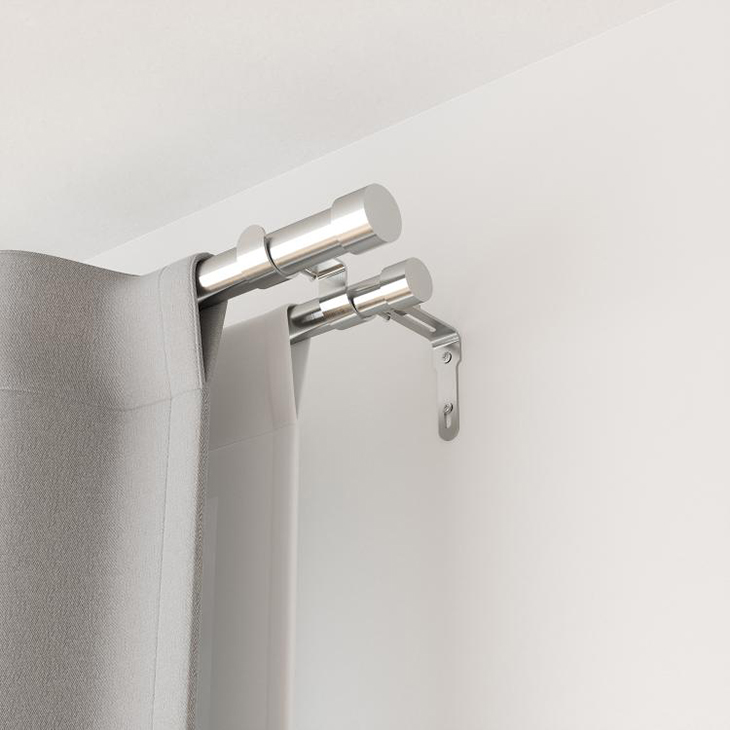 Designed for layering window treatments. To layer, place heavier decorative curtains on the front rod and add sheer curtain on the back rod. Great for windows in bedrooms, living room and dining room.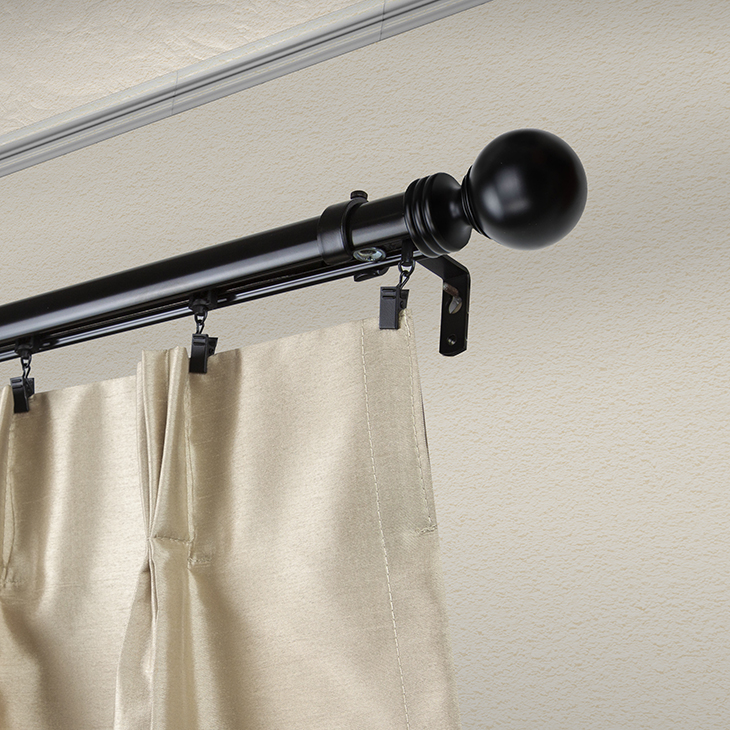 Aids in pulling fabric along the rod to create a pleated look. Cord-free design helps to create a safer environment in home with pets and young children. The rod can be used to adjust to right closing, left closing or center closing. Ideal use with light to heavyweight curtains.
Ideal for keeping out light. Pairs well with blackout curtains. Great for saving energy, blocking light and reducing noise. Optimal for kitchens, bedrooms, dining rooms and living rooms, offices, media rooms and nurseries.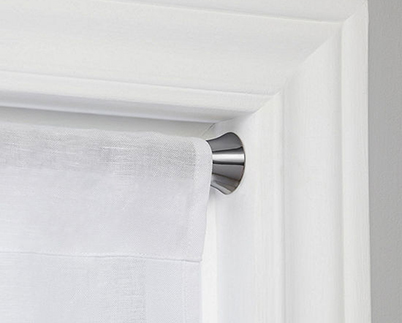 No tools required to set up. Easy installation with no drilling and no damage to walls. Tension rods are ideal for light to medium weight curtains in your kitchen, bedroom and living room. Perfect for dorm solutions or when window dimensions vary through the house.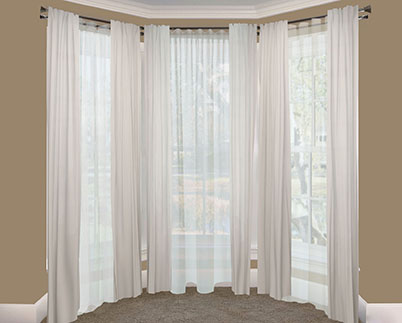 This rod is a combination of 3 rods that allows you to fit 3 windows with angles extending out beyond an exterior wall.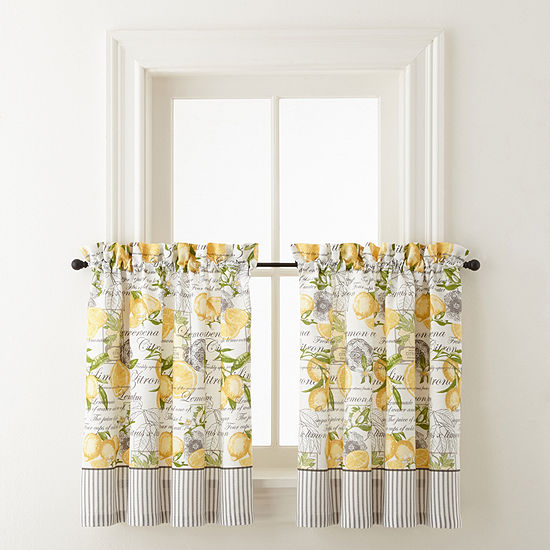 Cafe Rod
Cafe curtain rods are lightweight rods made of metal or plastic that are usually paired to café curtains to give your room that adorable Parisian cafe vibe. They attach to the wall with two small brackets, one on each side of the window.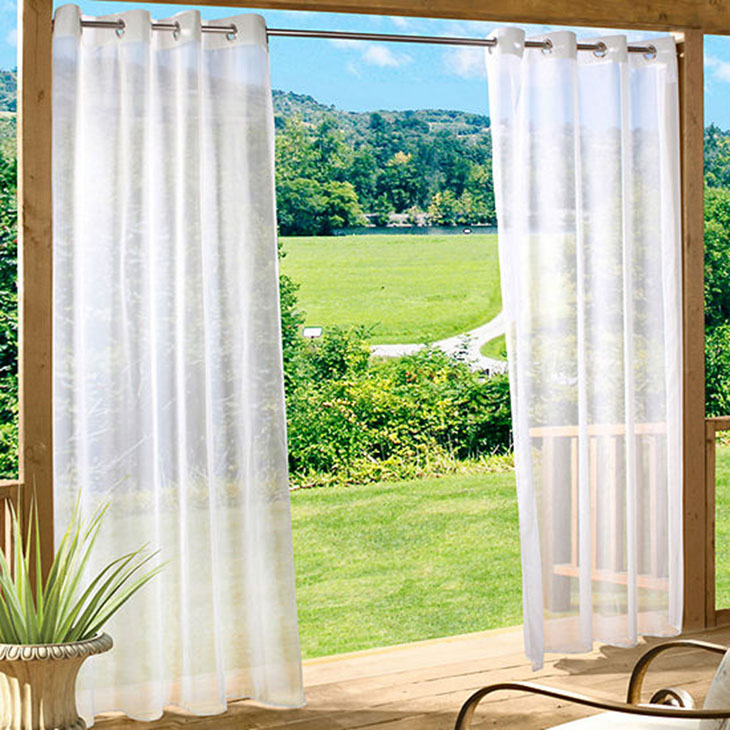 Outdoor Rods
These rods help you hang your outdoor patio or gazebo curtains. If you're hanging sheer lightweight curtains, you may be able to use a simple tension rod. If you're hanging heavier curtains, you can use a single rod and mount it into the wood patio support beams. Ideally, look for rust-resistant rods marked for outdoor as well as indoor use, that will survive sunshine as well as any inclement weather.
Curtain Rods Solutions for Small & Large Windows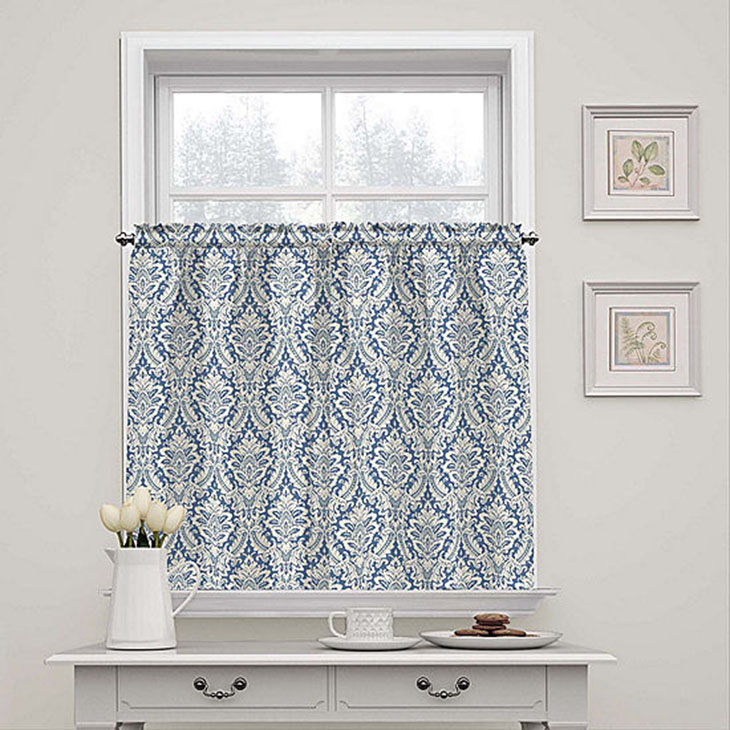 Small window solutions
For small odd shaped windows such as bathroom, kitchen, basement windows, you can choose between flat rods, magnetic rods, cafe rods, or sash rods.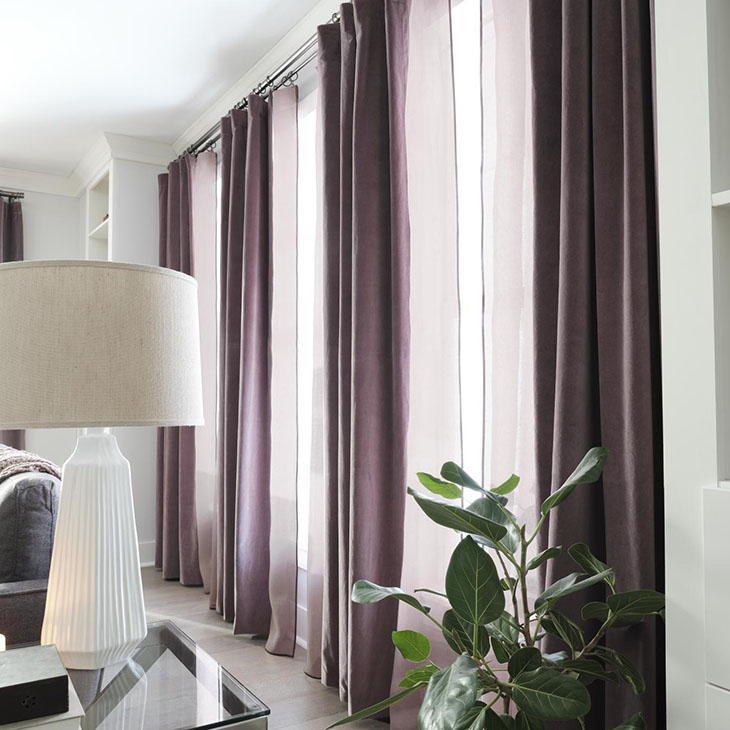 Extra large window
Tall extra wide, or often both, this window type usually needs much heavier rod with extra support since curtain weight will be substantial. Choose rods larger than 1" in diameter and follow manufacturer recommendations showing how much weight a rod will support.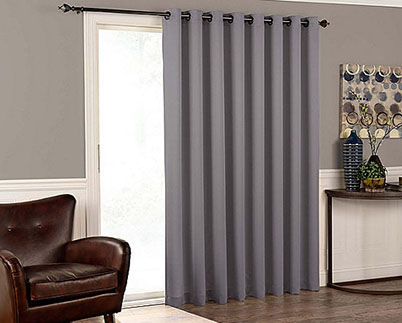 Use heavy duty rods (usually 1 and ¼ " in diameter or larger) with extra support bracket in the middle to prevent sagging. We offer several stylish longer lengths options at JCPenney.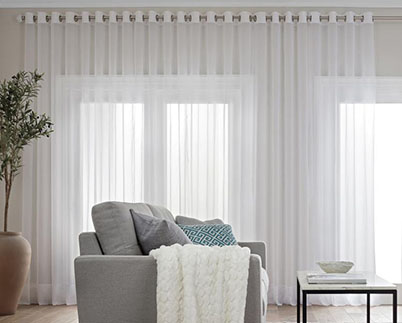 There are a couple of options for the French door coverage. You can use an extra wide rod and curtain to cover the entire window run, including double sets of doors if needed. Alternatively, you can also use sash rods which are installed at the top and at the bottom of the window with the curtain stretched in between. Sash rods are secured to the door, so the curtains move with the door when it is opened or closed.

Magnetic Rods allow you to install curtains on metal doors and windows without needing to drill.
How To Pick The Right Rod Size For Your Window
Below are the steps you can take to help determine the correct rod size for your window. The goal is to calculate the right rod "length" to shop for. Rod length is essentially the width of your window + some allowances on both sides for the curtains to be able to be fully opened and the light to come in. In most spaces, decorative rods hung outside of the window frame, will look best and provide the most coverage.
1. Measure how wide your window is. For consistency, measure from outside of the frame to the outside of the frame.
2. Consider how much you would like your curtains to carry on past the window opening.
• A general rule is to add ~20% allowance to the measured frame if you're using decorative rods that extend past the window.
• Consider adding a couple of inches of extra allowance for heavy fabrics like velvet, damask or brocade, that add thickness on both sides of the window when the curtains are open.
Measuring for decorative rods (outside of the frame)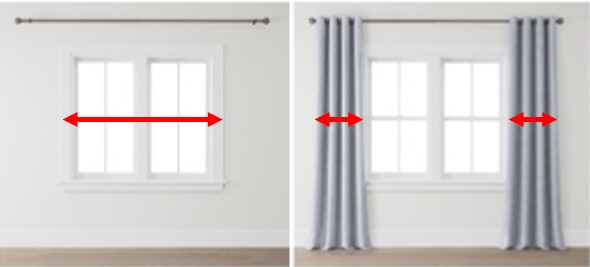 3. Consider our Curtain Rod Size Chart below to help you make the best choice:
| Measure Window Width | Rod "Length" To Shop For |
| --- | --- |
| Up to 50 inches | Window width + 10 inches |
| 51 to 60 inches | Window width + 12 inches |
| 61 to 70 inches | Window width + 14 inches |
| 71 to 80 inches | Window width + 16 inches |
How To Pick The Correct Clip Rings For Your Rod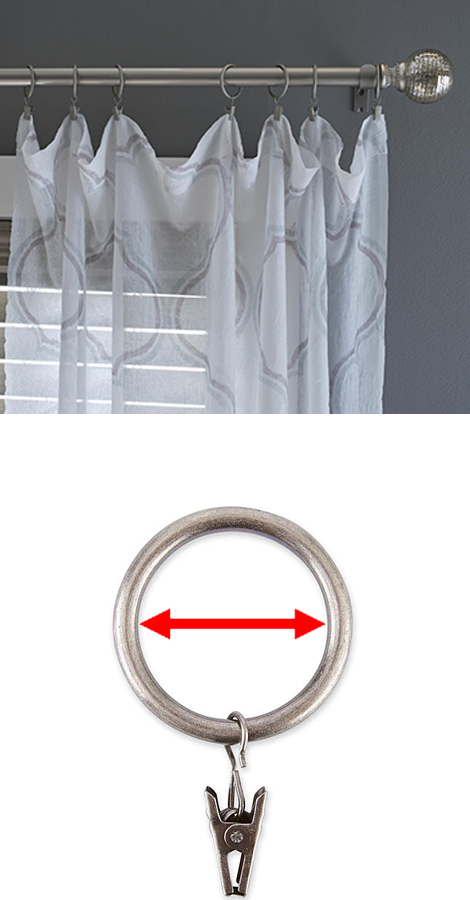 Rod Diameter & Clip Rings
If you decide to use clip rings to hang your curtains, you will need to find a correct diameter size of the clip ring to purchase with your rod, as well as match the styling and finish to your liking.
Proportion is key here, as too large of a ring will look odd on a rod and leave the curtain top drooping, while too small of a diameter will catch on the rod not allowing you to open or close your curtain freely.
A simple rule to follow is to choose a clip ring with a diameter that is about ½ of an inch larger than the diameter of your rod. Most retailers and manufacturers clearly indicate ring size = the inside diameter of the ring in the product description:
• Size: 1¼" inside ring diameter
So, if you plan to buy a 1 inch diameter rod, buy a ring that has the inside diameter of 1 and ½ inches to ensure the best fit and appearance.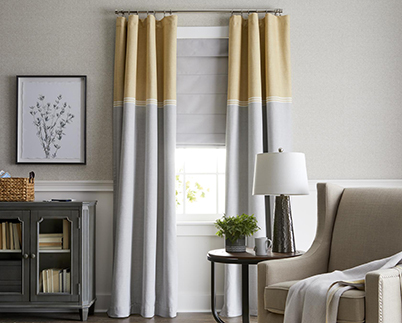 How many clip rings will I need?
Now let's talk about how many clip rings you will need so the curtain hangs nicely. There are 2 good estimates to use:
• Distance between rings: generally, a clip ring should be placed about every 4-6 inches depending on the fabric weight. Heavier fabrics, like velvet, may need a bit more support. Sheer fabrics will require less.
• An alternate approach is the weight estimate: each curtain clip ring can support up to 3 pounds of curtain weight. The standard set of 7 clip rings can hold up to 21 pounds of curtain weight and should be sufficient for most common curtain panels.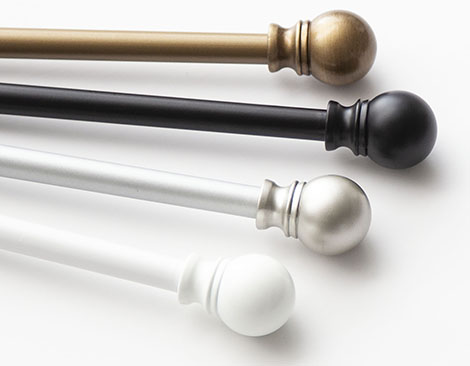 Selecting the right color and rod finish for your room will complement the overall look and design style you want to achieve.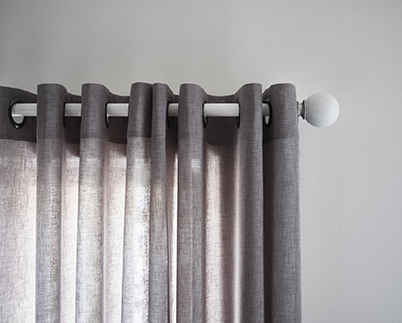 White/Light Colors - If your wall colors are light and airy with a similar white or light furniture, and sheer or lighter colored curtains, a white curtain rod will blend in nicely.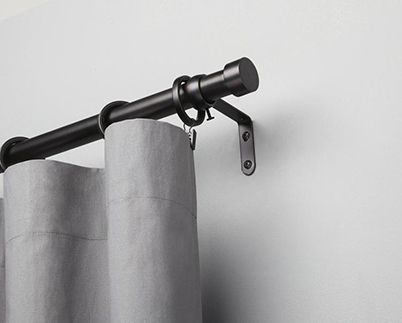 Black - If your room style is more traditional with darker furniture and darker curtain materials, a black rod will tie in nicely with your existing furnishings.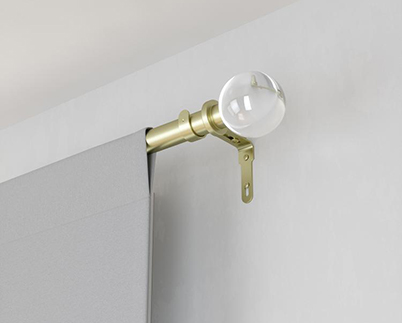 Gold /Brass - Gold tones and accents in soft home furnishings, such as bedroom bedding and curtain panels or living room pillows and throws, will be complemented with gold/brass curtain rods that will pick up the color and brighten the room. Gold rods can also be a statement on its own when combined with neutral monolithic colors, like this grey/gold combination in our photo.
Bronze - Rich warm tones of bronze make it a tried-and-true classic addition for just about any interior style other than modern.
Oil rubbed bronze finish is a variation on bronze that simulates aging, with the colors that range from a rich chocolate brown to copper greens.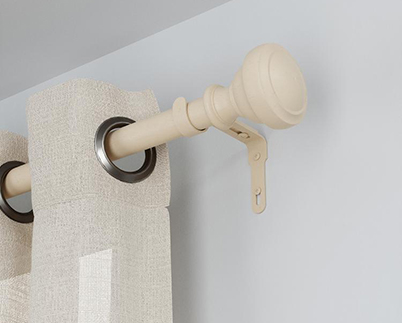 Wood - Wood rods come in light to dark stained finishes or they can be painted. These rods work well with many decor styles. A light or natural wood rod will work with farmhouse, Scandinavian or modern décor styles. Black painted rods will look sharp with the modern decor. A bamboo finish will complement tropical styles, while rich deep wood colors will enhance a traditional home setting.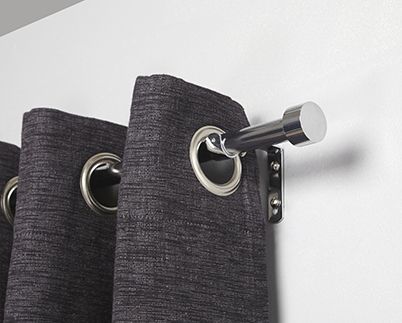 Greys – Silver, Nickel (Polished & Satin), Gunmetal & Pewter - Grey and neutral tones have become very popular in the interior design trends in the last few years. You can easily choose a complementary rod in the same color family by matching the rod color to the metal already present in the room. Think about your light fixtures or door and cabinetry handles, as well as any furniture with metal details.
If we look on the continuum of finishes from bright to dull, polished nickel is similar to the stainless steel appliances – bright and shiny. Satin nickel is light-colored but with much lower sheen. Gunmetal finish is a darker silver gray finish with blueish undertones. Pewter finish is dark and dull and maybe referred to as antique nickel.
Curtain Accessories
Curtain accessories such as finials, curtain holdbacks and tiebacks, rings and curtain hooks – can all be used to enhance your window and make your room style look different and unique. Tiebacks and holdbacks are both used to pull back curtains and to hold them to the sides of the windows. Tiebacks generally match or complement the window curtains in color for a harmonious look; however, you can add a punch of color with contrasting tiebacks or pick the texture different from your curtain panels material to add a modern look. The holdbacks usually match the curtain rods in color and finish.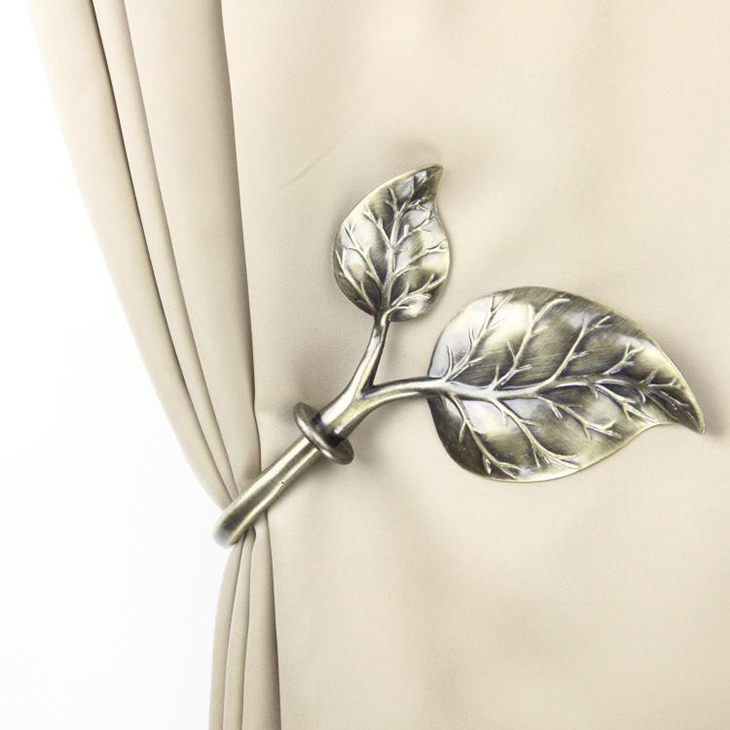 Holdbacks are U-shaped metal or wood fixtures where the panel fits into the U.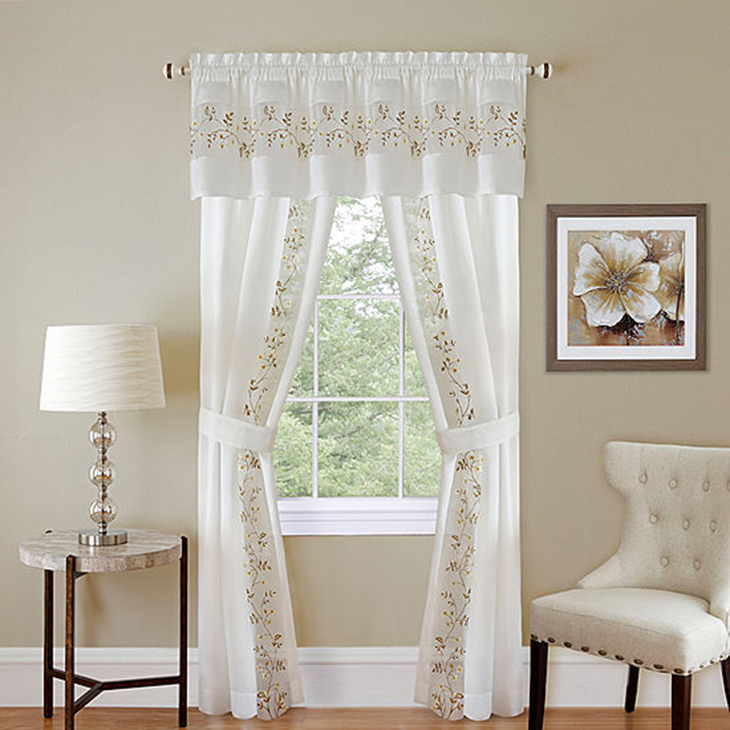 Curtain tiebacks are decorative fabric strips or cords that loop around the curtain to hold panels open while creating a polished draped line.
Mix & Match Your Finials To Create Your Own Style
You can change up the style of one room or the entire house with our newest Mix & Match Program from Umbra.
How it works:
1. Pick one of Umbra's Mix & Match Rods in your Preferred Finish.


2. Pick your favorite pair of any of the Mix & Match finials. They are interchangeable and will screw on the end of the rod, no extra tools needed! You can even get a couple of your favorite styles and switch them out based on the season or the room look that you're going for.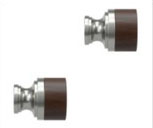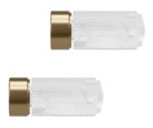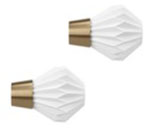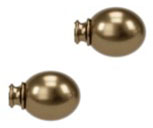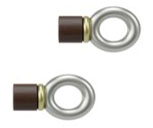 Here are a few of our favorite design combinations from Umbra Mix & Match: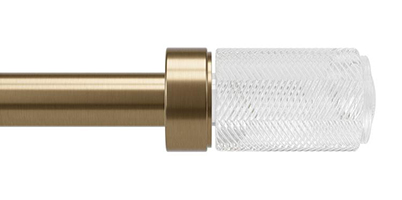 • Glam: Try adding glass finials for a luxe, glam style.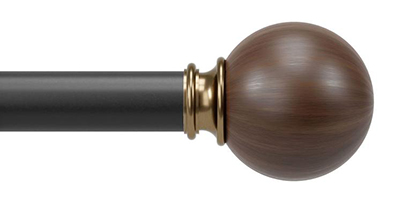 • Traditional: Rounded wood or wood-looking finials complement this look.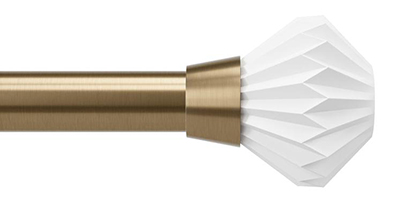 • Modern: Look for clean geometric lines with unique accents.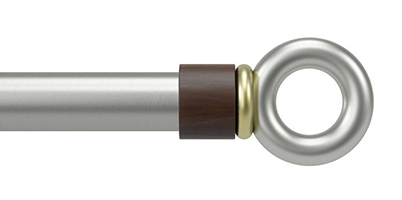 • Contemporary: this style is known for softened lines, neutral palette and basic clean shapes that will stay relevant for years to come.