July Birthstone Jewelry:
What Makes a Ruby Special
One of the most precious and sought-after gemstones throughout world history, and rivaled only by diamonds, the ruby is a stunning red gemstone that serves as the birthstone for people born in July. Many cultures consider the ruby to be a stone for royalty, symbolizing wisdom, passion, and good fortune – so if you're born in July, know that your birthstone is a true rarity.
What is a Ruby and Why is it Red?
Rubies are actually very close to the same chemical composition as sapphires, formed from a mineral called corundum made up of aluminum and oxygen. Corundum on its own is a colorless stone, but rubies contain trace amounts of chromium instead of aluminum, giving the stone its popular "ruby red" color. The color of a ruby is also how it got its name, derived from the Latin word "ruber" which means "red," and these stones can range from a light pink to a deep crimson color.
What is the Meaning of Rubies?
Rubies are not only a symbol of wisdom, but also power and energy. World leaders throughout history have sought after rubies, believing that they would strengthen them in battle, protect them from harm, and cure inflammatory diseases. Others believed they would good fortune and success in love. Rubies are also traditionally given as anniversary gifts between married couples, most notably the 15th and 40th wedding anniversaries, so keep that in mind if you're looking for the perfect anniversary jewelry gift!
What is the Difference Between Natural and Treated Rubies?
Natural rubies are those formed, well, naturally! They are genuine stone mined from the earth from all over the world, and the larger the stone, the more valuable it is. However, much like genuine diamonds, naturally formed rubies can be quite expensive – especially as the stone increases in size. In many cases, genuine rubies can be more expensive than naturally formed diamonds! They are also nearly as hard as diamonds, ranking 9 out of 10 on the Mohs scale, so they can stand up to most wear and tear. But it's still important to take care of genuine rubies to maintain their value.
Treated rubies can be a more affordable alternative. A ruby is treated by combining the red corundum with lead glass to fill in the fractures. This enhances the color and clarity of the stone, and increases its overall ruby red appearance. It's important to note that treated rubies require special care to clean and maintain their beauty, so you should avoid excessive heat and sharp blows to the stone – and never use an ultrasonic cleaner, as that could crack the stone.
What Are Synthetic and Lab-Created Rubies?
There is also the option to choose a synthetic, or lab-created ruby. These gemstones are formed from intense heat and pressure within a laboratory environment, and they are virtually the same as natural rubies from a chemical standpoint, but for a fraction of the cost. Plus, they don't contain the same flaws as naturally formed rubies, so there's no need to treat them with lead glass.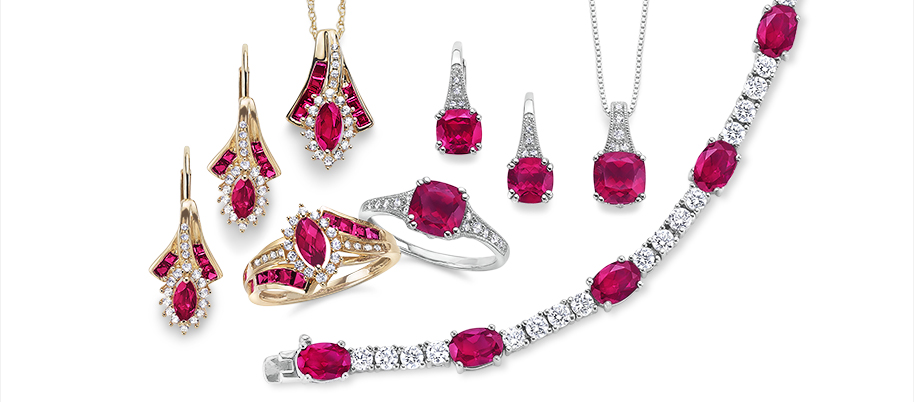 At JCPenney, we have an incredible selection of treated and lab-created ruby jewelry that's available in a variety of styles. From gorgeous gold ruby rings and stud earrings, to stunning ruby pendant necklaces, you're sure to find that perfect piece of July birthstone jewelry. We also have special financing for fine jewelry purchases when you use a JCPenney credit card, so shop online and save today!