Bridal Sets 101: Everything You Need to Know About Bridal Sets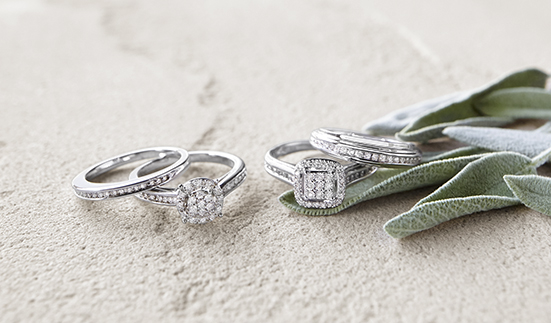 After your engagement, planning a wedding is one of the biggest steps you can take in life. It's an exciting time, filled with hope and romance as you plan out all the details to create the perfect day for saying, "I do." But the most important detail is the wedding band, also known as a wedding ring. How will it look with your engagement ring? In this guide, we'll cover the basics of what a bridal set is, when to buy one, why you should choose a bridal set, and how to choose the best one.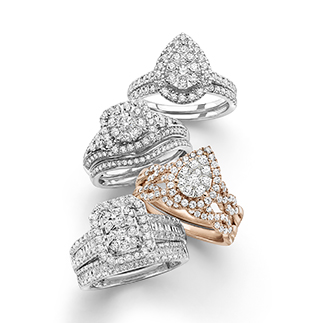 What is a Bridal Set?
A bridal set is the combination of an engagement ring and wedding band for the bride, and is sold as a matching set. Sometimes the rings are two halves of one whole, looking their best when worn as a complete set. Generally, the engagement ring will be bigger, featuring a solitaire or cluster of diamonds, with the wedding band meshing seamlessly next to it. The end-result is nothing short of breathtaking, with both rings combining into a beautiful bridal set. And in case you were wondering, the wedding band is worn first so its closest to your heart.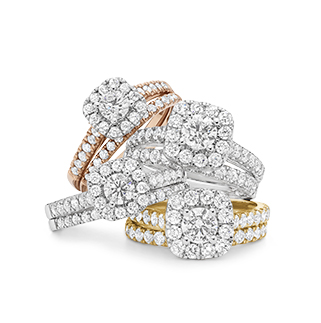 When to Buy a Bridal Set
Bridal sets are a great choice when you're first picking out your engagement ring, because the wedding band already matches in a single, cohesive design. No need to stress out about finding a complimentary wedding band; you'll just wear the engagement ring on its own before the wedding, and then complete the set on your wedding day.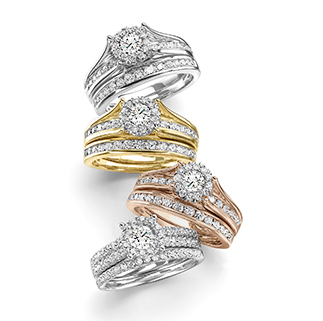 Why Choose a Bridal Set?
Aside from removing the need to find a perfectly matching wedding band before your big day, a bridal set is a great economical choice. You'll often save more money when purchasing the engagement ring and wedding band as a single set, and then you can use those savings to spend on other wedding-related things – or your honeymoon.
Bridal sets are also super comfortable to wear because they function as a single ring when worn together, thanks to their interlinked design. You can even get the bridal set fused together by a jeweler after the wedding for an even better fit. Whether you choose a complete bridal set or purchase your engagement ring and wedding band separately, we have a great ring size guide to help you find the perfect fit for both rings.
How to Choose the Best Bridal Set
Like standalone engagement rings or wedding bands, bridal sets can be as simple or lavish as you desire. The options are endless, with a variety of ring styles, precious metal types, and diamond combinations. So, what kind of bridal set should you choose?
Before anything, set a budget. Knowing how much you want to spend on a bridal set will help narrow down your options before you start your search. This will give you a clear sense of purpose before making your decision.
Consider your personal style. Just because a bridal set has a unified look, it doesn't mean you can't find one that matches your own sense of jewelry fashion. Think about the type of diamond shape or cut you'd like, or the metal type or color that would look best with your skin tone. You'll be wearing these rings every day, so it's important to find a bridal set you'll love.
Think about your daily activities. If you're an active person or work with your hands, you might want to choose a bridal set with a smaller profile or more subdued style. If you work at a desk job, something larger might not be as much of an issue. Whatever your lifestyle or ring preference, it's always a good idea to think about what you'll be doing with your hands after you put on the rings.
Shop Beautiful Bridal Sets at JCPenney
Now that you're armed with all the information you could need about bridal sets, take a look at JCPenney's exclusive bridal set collection. We have a wide variety of yellow, white, and rose gold bridal sets to suit your tastes, and a dazzling selection of diamond bridal sets with every cut and shape you could imagine – from simple rose gold solitaire bridal sets with a single band of diamonds, to lavish white gold halo bridal sets with a shimmering cluster of diamonds. Shop online and save more with special financing when using a JCPenney credit card!