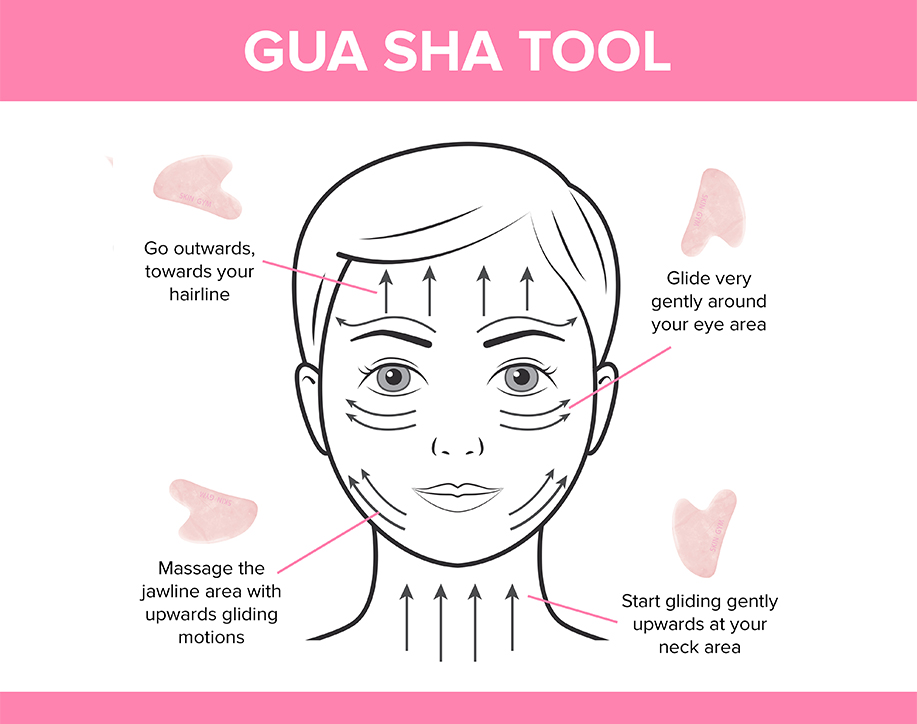 How to Use a Gua Sha Tool?
Prep your skin by applying a face serum, oil, mask, or moisturizer.
Gently massage your face and neck in upward and outward motions. You can start from the neck and move along your chin, cheeks. Then very gently massage around the eye area.
Use the smaller end of the Gua Sha tool to massage the delicate sections of your face, like the eye area.
Do each motion three times on each part of your face.
Do each side of the face separately.
Use it for 5 to 10 minutes daily for maximum benefits.
How to Clean and Store Gua Sha?
Gua Sha for face needs to be clean because a dirty one can trigger several skin problems, like acne, greasiness, and breakouts. To ensure your Gua Sha tool is clean, wipe it with a soft towel before and after every use.
You can also dip the towel in soapy water (water + your cleanser) and then dry it completely. Use lukewarm or cold water only, as hot water can damage the stone of the tool.
You can store your tool in a dry tray or box, or someplace where it will not fall. Or, you can store it in your refrigerator or make-up fridge for a cooling effect.
Gua Sha vs Roller
Like Gua Sha, there are other beauty tools as well, such as face rollers, face sculptors, facial massagers, and face trainers. Many are often confused between Gua Sha and face rollers.
While both the tools use a stone, the obvious difference between the two is the shape and usage. A Gua Sha is shaped to be held in the hand for massaging the skin's surface. It can be used regularly to rid the skin of puffiness, improve blood circulation, reduce acne, and naturally contour your face. On the other hand, a roller has a handle to roll the stone gently on the skin. It is a quick option to stimulate blood flow and drain puffiness.
Gua Sha should be incorporated as part of your daily beauty regime, while a face roller is for someone who has less time and simply needs a quick boost. If you're wondering how to use a face roller, check out our face roller buying guide.