Engagement Rings 101:
How to Find the Best Engagement Ring in 5 Steps
Shopping for the perfect engagement ring can be a daunting task, because it's the first step toward one of the biggest commitments you can make, but it doesn't have to be! Finding the best engagement ring for your partner should be a celebration and demonstration of your love, and we're here to help you navigate through the many variables of selecting the best engagement ring so you won't feel so overwhelmed.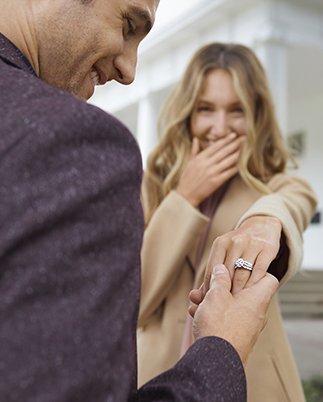 Step 1: The Five Cs of Diamonds
The first thing to consider is when buying an engagement ring is actually four things, especially if you're eyeballing a diamond engagement ring: cut, carat, clarity, and color – otherwise known as the "Five Cs" of diamond grading.
Diamond Cut
The "cut" of the diamond doesn't mean the shape of the diamond, but rather how it's been cut internally to allow better reflection and refraction through the top of the stone, providing that coveted "sparkle factor." If a diamond is cut too deeply, or if the cuts are too shallow, the light will leak through the sides or bottom of the stone. Modern diamond cutters have a keen eye and understanding of how light interacts with diamonds, so they can cut them in the most brilliant ways possible to provide a truly dazzling diamond.
Diamond Carat
The "carat" of a diamond refers to the weight or size of the stone. The average carat size for a single center stone is just above 1 carat, but the total average carat size for the entire engagement ring is about 2 carats. However, 1 and 2 carat rings can be quite expensive, so a more affordable option would be a multi-diamond ring with smaller stones that can provide even more sparkle than a singular diamond.
Diamond Clarity
The "clarity" of a diamond refers to how many imperfections are present in the stone, and it's another big factor when it comes to price: the clearer the stone, the more expensive it will be. Flaws in a diamond are referred to as "inclusions" and they typically show up as black or white flecks from foreign minerals, or naturally occurring lines and cracks in the stone. But fear not! Even if you have an "included" diamond, most flaws are not visible to the naked eye.
Diamond Color
Perhaps one of the more exciting aspects of picking out a diamond is choosing the color that suits the receiver. Diamond color is graded on a scale from D (no color, and the most expensive) to Z (a light yellow color). Colorless diamonds are extremely rare, whereas white diamonds are the most popular. That said, pink, yellow, and even champagne diamonds have risen in popularity over the years, so it really boils down to what you think your partner will love the most.
Diamond Choice
Due to innovation in the diamond industry, customers now have two choices when it comes to diamond origin: natural/mined diamonds or lab-grown diamonds. It is important to note that lab-grown diamonds are chemically, physically and visually identical to mined diamonds, so you will get the same hardness, brilliance and fire you love with lab-grown diamonds. Natural diamonds are mined from the earth whereas lab-grown diamonds are grown in a lab. Natural diamonds are often prized due to their rarity, whereas lab-grown diamonds generally cost less than natural diamonds so you can get a bigger sized lab-grown diamond for the same price as a smaller natural diamond. Ultimately, choosing the right kind of diamond is a personal choice based on your preference of diamond origin. Now that you have the facts you can make the best decision. JCPenney offers a great assortment of both mined and lab-grown diamonds so you can easily find what you are looking for when shopping for a diamond.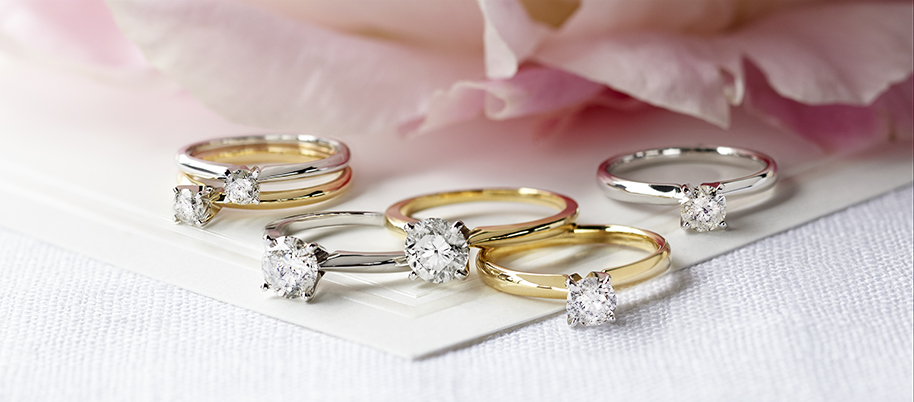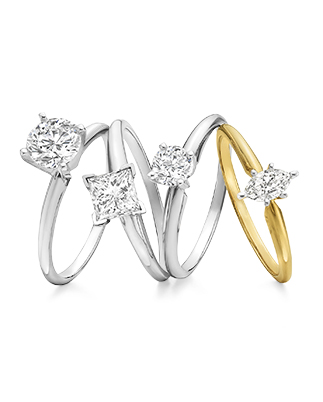 Step 2: Picking the Right Diamond Shape
Keeping the Four Cs in mind, it's time to settle on the shape of the diamond, and there are many to choose from. The most traditional shape is a round diamond, offering a truly timeless look, but princess- and pear-shaped styles are more modern, popular choices. For a more vintage style, you can go with a cushion-shaped diamond with striking brilliance, or an asscher-shaped diamond for something a bit more art deco. All of these shapes make for wonderful solitaire diamond engagement rings – but, of course, if you're having trouble deciding on which diamond shape to choose, you can always opt for an engagement ring with multiple diamonds in multiple shapes.
Step 3: Selecting the Perfect Metal Type and Color
Almost as important as the diamond itself is the metal type/color of the ring band. Yellow gold is the most classic choice when it comes to buying an engagement ring, but rose gold and white gold have made serious strides in modern popularity, and they pair well with virtually any type of diamond. Gold comes in a spectrum of purity that is measured by "karats" (not to be confused by diamond carats, which measure weight). 24 karat gold is the most pure, followed by 18k, 14k, and 10k gold. Lower karat counts are mixed with other metals, so they tend to be more affordable (and more durable) than pure gold. That said, if gold isn't your or your partner's thing, you can also choose a silver, sterling silver, or platinum engagement ring for a truly stunning and lustrous look.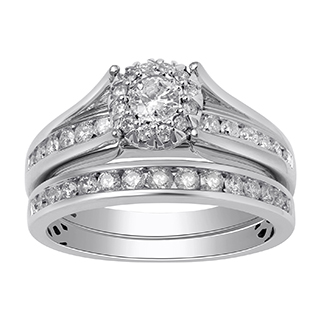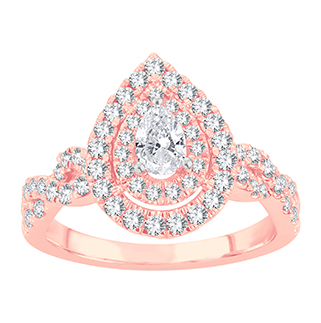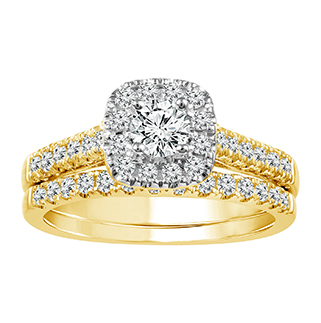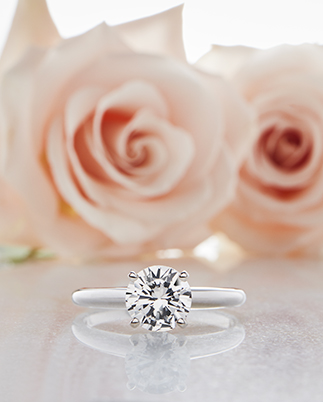 Step 4: Choosing the Right Ring Setting, Style (and Fit)
You've settled on the diamond's shape and quality, and the type/color of the metal, so now you need to decide the ring style and setting for your diamond engagement ring. Solitaire rings will never go out of fashion, but they can also be a bit too simple for some couples. If you or your partner fall in that camp, you can also choose gorgeous three stone rings with multiple large stones, halo rings that feature one large stone surrounded by a setting of smaller diamonds, or even stackable bands that feature equal-sized diamonds all around the band. Lab-grown diamonds are also a great alternative to mined diamonds. They are physically, chemically, and optically identical to natural diamonds, but they cost a fraction of the price and provide the same sparkle you know and love.
This is often the biggest choice to make when selecting an engagement ring, so it's important to do your research and find out what your partner likes before making the purchase (observe the type of jewelry your partner likes, or ask their family and friends for input). That said, many couples shop for engagement rings together to make sure they can find the perfect style, and the experience can create lasting memories of an exciting time – not to mention it ensures the ring will fit properly. Rings can be resized, so if you're shopping alone it's not a big deal if you don't get the perfect fit. But a good way to avoid this is to take one of your partner's rings to the jeweler, or measure it with a ring measurement chart online. And if your partner's ring size changes over time, you can take advantage of JCPenney's Lifetime Jewelry Protection Plan, which includes unlimited ring sizing, as well as normal wear and tear, loss of stones from setting defects, and bent / broken prongs.
Step 5: Don't Worry About the Price (Really, Don't Worry)
Saving up 2 or 3 months' worth of salary is an outdated marketing tactic to get you to spend more on an engagement ring. Engagement rings are certainly important, but it's more important to not overextend yourself if you can't afford to spend thousands of dollars. Set a reasonable budget and operate within those parameters – especially if you still have a wedding and honeymoon to plan. Talk to your partner about what they want (and what they're expecting), and plan from there. JCPenney specializes in value-priced engagement rings, and we have a collection of thousands of choices that can fit any budget. We also have special financing with no interest if paid in full within 12 or 24 months, depending on the cost of the ring.
But remember: the most important thing is that you are asking the love of your life to marry you. That's the most important thing. The engagement ring is just the cherry on top.